Hunsrück - welcome to "the south"
20.05.2019
A contribution by Johannes Kormann with a foreword by LWA founder Sebastian Schmidt.
Foreword: In the Hunsrück it all started for LWA - with the first Hunsrück crossing with packrafts which then became our Multiday courses. In the following years Land Water Adventures was especially determined by the people who came together as a team for this exciting ride. So it is only fitting that it also started for Johannes with LWA in the Hunsrück.
Erstmalig haben sich die Wege von Johannes und Sebastian 2012 im Thüringer Wald gekreuzt, LWA gab es da noch nicht, Sympathie aber schon. Und nun, ein paar Jahre später freuen wir uns, den Wahl-Lappländer und mittlerweile erfahrenen Outdoor-Guide, der auch beim Thema Packrafting nicht unberührt ist, in unserem Team zu begrüßen.
Seine erste Aufgabe mit LWA hat er bei der frühsommerlichen Oster-Hunsrück-Tour angenommen, seit Ende dieser Tour trägt er den LWA-Hoodie. Was für ihn Süden ist, und wie es ihm dort ergangen ist, davon erzählt er hier.
About the author: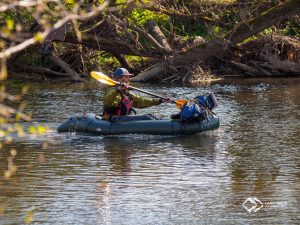 Johannes has been out and about for a long time and still can't get enough of it. As a trained wilderness guide and passionate outdoor photographer, he has turned his hobby into his profession.
More about Johannes can be found here.
It's Easter, mid-April. In Lapland there was still a meter of snow, shortly before the departure I stood still on the skis. Now I'm standing in the Hunsrück, in a T-shirt, sweating. I am in the south. Spring is in full swing here and will also show its best side for our 4-day Hunsrück tour. Sunny, warm and dry. The best paddle weather. And also the best and easiest (least challenging) weather for the 10 participants, who mostly take their first careful steps in Packrafting or Trekking. I have already gained some experience in being outdoors. Hiking, rolling, gliding, stomping, swimming, cheering, swearing. With and without guests. But also for me there is a lot new in the air, at this cosy camping site at the splashing Nahe. I am both an observer and a model. Excited about what Sebastian and Moni will show me in their LWA packrafting world and ready to share some of my experiences with the participants.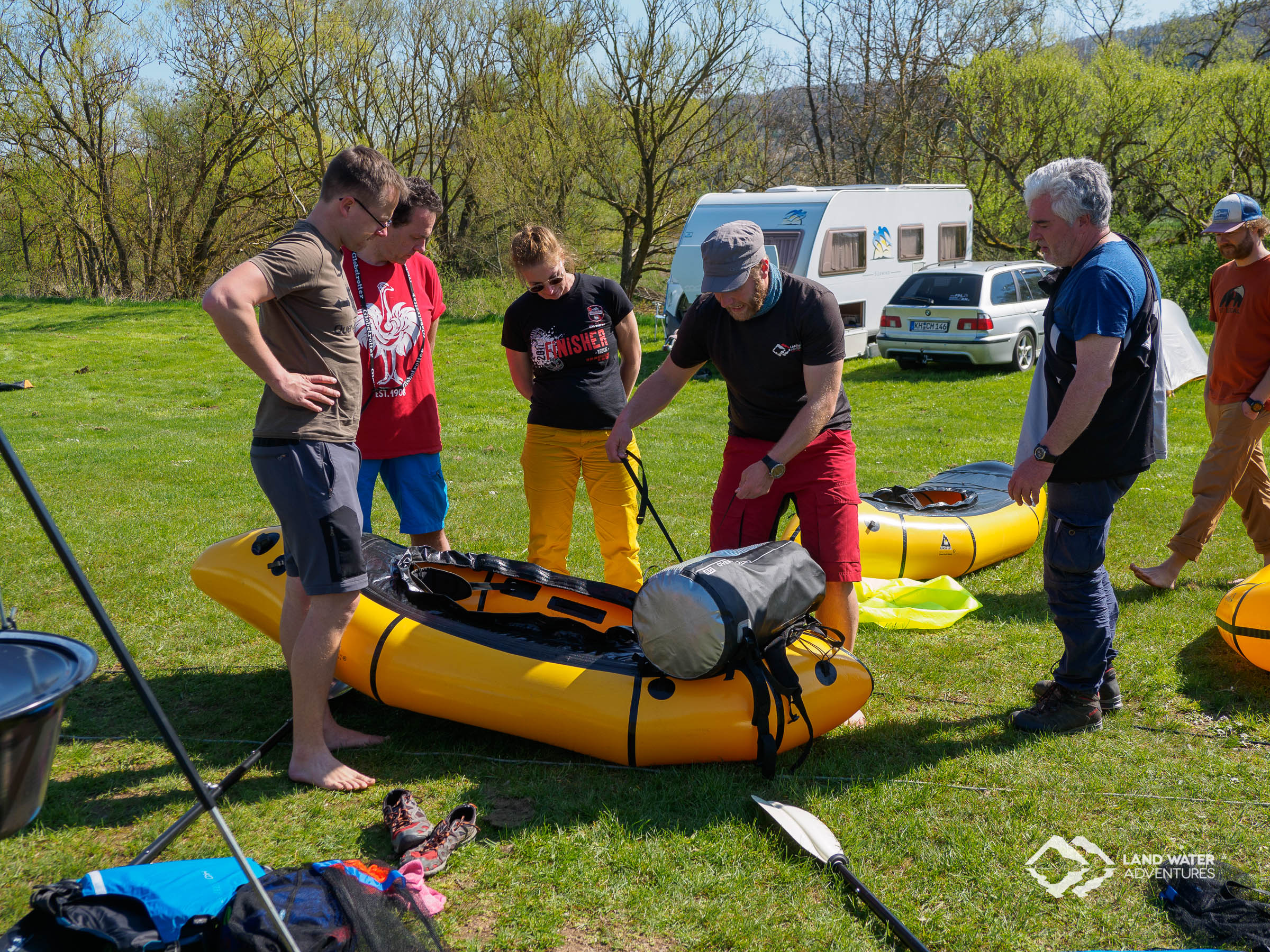 A first taste
But first, let's start at the beginning. In front of each of the good-humoured participants is a pile of equipment and a backpack in or on which somehow everything has to be stowed. This is perhaps the biggest task in packrafting. The decision: What do I take with me? What do I leave there? What can I use for more than one purpose? In addition to normal trekking equipment, there is a boat, paddle, life jacket, dry suit and a pair of shoes for paddling. Sebastian will show how to do it: How do I pack my backpack for the hike and how do I load my boat for the river? With patience and creativity all participants implement his suggestions and try to transfer them to their packing and equipment system.
Then it's time - everything is stowed away. Surely there is still a need for optimization with one or the other backpack, but we still have 3 days to go. Now it's time for the small trial round on the Nahe and that means for me and for most participants: the first paddle strokes of the year. And that feels good. The boat under my bottom and finally the paddle in the river again. The next 2 hours are filled with paddling exercises, mastery of the boat, keeping in the swell. Colourful, cheerful rubber boats in the radiant spring green. A relaxed start.
On the way
The challenge awaits on the first day of the tour. 12 km hike through the Hunsrück with about 25 kg luggage and then 12 km paddle, wade, treideln, carry and scribble along the Idarbach and Hahnenbach to the Schmidtburg. The sun is shining and the atmosphere is relaxed. By noon we have completed the hiking route, take a lunch break in the shade at the Idarbach and are full of anticipation for the next 12 km on the water.
The river already carries less water at this time of year, but still enough for the Packrafts with their shallow draught. Although hiking is a nice part of packing, you enjoy the moment when all your luggage is stowed on the boat and carried by the water.
The Idarbach is still wildly romantic here. The hills of the Hunsrück roll around us, the beech forests slowly wake up from hibernation, the pastures hang deep down into the stream. Flat tow passages alternate with calm, deep sections, small rapids, scrub and fallen trees. If you are looking for adventure, you don't have to go far - you can find it here.
Towards evening a group of contented, exhausted Packrafter on the Hanhnenbach steers through the golden light of the setting sun. Tired legs, the first sunburn of the year and a broad grin on their face. We stop at the foot of the Schmidtburg, carry our boats up to the garden of the castle and set up camp in this surreal world, between long gone times and colourful plastic boats. For this atmosphere alone, the day was worth it for everyone.
Colourful boats in the Easter sun
We start the second day well rested and with the same bright sunshine. All participants seem well trained in dismantling the tents and packing up. Generally there is a relaxed and exuberant atmosphere in the group. It feels as if we have been together for days. Sebastian had already divided us into 3 groups the day before, each led by Moni, him and me. So we are more flexible on the small rivers and at transfer and towing points. One also notices that the participants feel comfortable in the small paddle groups.
For me this is just the right position to get used to. I'm not in first place yet and can learn some tricks from Moni and Sebastian about their relaxed and motivating guiding style. At the same time I'm in an element of leading small groups where I've felt very comfortable for a long time.
The first few kilometres the Hahnenbach meanders through former slate quarries (unfavourable stone for inflatable boats) around the Schmidtburg. Again and again we catch glimpses of the ruin in the middle of the forest. We pass small rapids, which give the participants a small but fine foretaste of what is still possible with these boats, and first plans for a continuation with the white water course in Tirol or on the Soča are spun.
Am frühen Nachmittag erreichen wir unseren Ausstiegspunkt. Von hier führt der Hahnenbach zu wenig Wasser um weiter befahren zu werden. Also: pack your Raft. Die Boote sind schnell verstaut und nach einer ausgiebigen Pause zwischen Bach, Wald und Sonne machen wir uns auf zu einer kleinen abschließenden Wanderung entlang des Soonwaldsteigs, zum Campingplatz am Hahnenbach. [Redaktionelle Anmerkung, Januar 2022: Inzwischen erwartet die TeilnehmerInnen an diesem Abend ein ganz besonderes Übernachtungshighlight anstelle des bisherigen Campingplatzes.] Kaum ist die Sonne untergegangen, merkt man, dass der Sommer noch nicht ganz da ist. Die Nächte am Fluss sind feucht und kühl, doch wir haben unterwegs Feuerholz gesammelt und nun drängen sich die gut gelaunten Packrafter um das Feuer, durch die Nacht hallen Gelächter und Geschichten von früheren Abenteuern.
Back
Easter Sunday is our last day together on the road. The Soonwaldsteig leads us another 8 km to Kirn, to the river Nahe - the last paddle stage of our tour. Already in the morning the sun is burning hot from the sky, I still haven't got used to it. Sometimes I wish I had a spot of residual snow in which I could just stick my head. It feels all the better when we finally arrive at the banks of the river Nahe. I leave the dry suit in my backpack for this section and enjoy the cool water that keeps splashing into the boat.
The Nahe is still waiting for us on this section with some nice little rapids. For Sebastian this is a home game. He shows us the best places for paddling exercises. Keeping in the sweeping water, traversing and even a wave can be found for riding, which is extensively tasted by the participants. The water clearly invites you to play.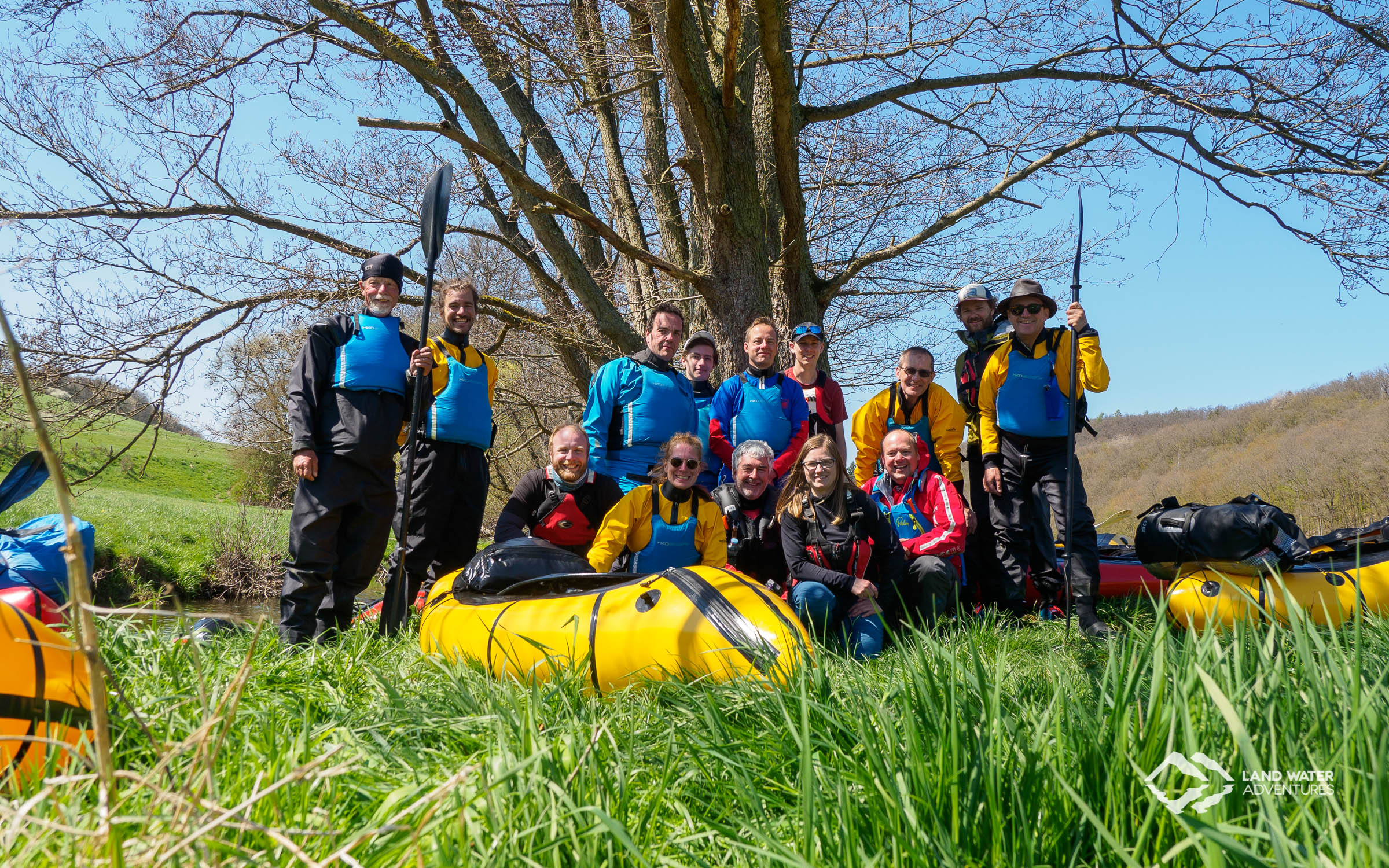 Like the last days, it's hard to tell if the time is going fast or slow, as it should be on a good tour. So much happens in such a short time and it feels like you've been on the road forever. But suddenly we drift past the practice area of the first day, slide down the well-known weir and find ourselves again at the starting point of our tour - at this cosy camping site at the splashing Nahe.
Here everyday life is catching up with us again. Trains have to be caught and cars have to be packed. For most of the participants it's going home on the same day. But before that we review the last days together and find out that for all of us there were four eventful, adventurous, instructive and yet relaxed days.
For my part, I've arrived in the Hunsrück. And thanks to Monis and Sebastian of an open and motivating nature, I also arrived at LWA.
You May Also Like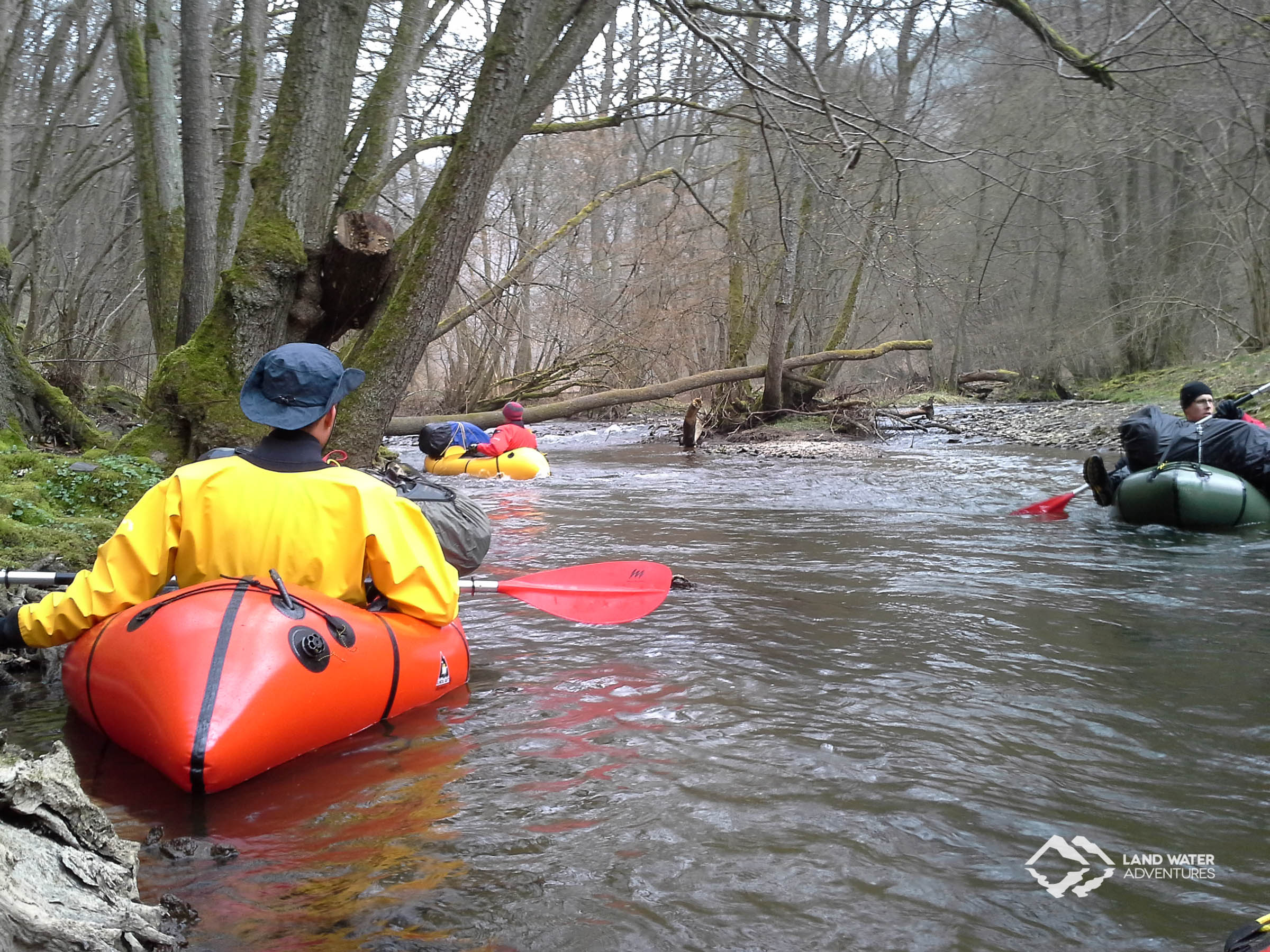 15.05.2014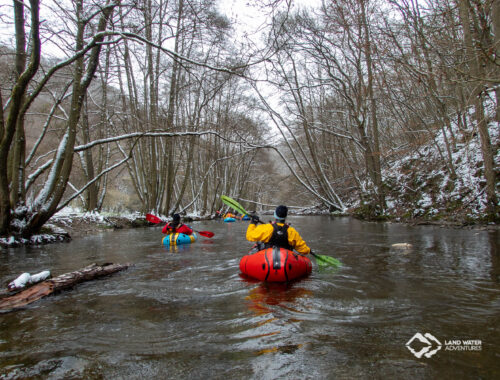 07.04.2022