Intense, wild, wonderful.
A fit gang of whitewater enthusiasts is drawn to Albania. Why? We are attracted by beautiful wild rivers.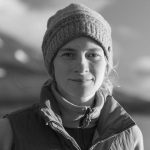 A post by Susanne Blech
At Land Water Adventures Susanne is a guide for whitewater and expedition style, tour developer for unusual locations, contact person for nature conservation, expert for environment and wilderness, likeable, walking nature encyclopedia and does not get out of the tent without coffee.
More information about Susanne here.
Is a river that winds through old cultivated land still wilderness? Yes, it is. The Vjosa exudes the feeling of originality with every one of her bends. It rushes, the waves bounce, the current pulls. You don't need to be far from civilization in Albania to immerse yourself in nature.
As a paddler, you are inevitably also a bit of a pilgrim, driven by a longing for untamed nature. On the surface, what beckons the visitor is the sporty fun of paddling in whitewater. But looking deeper, the character of the river is what really keeps us here. And especially the character of such majestic wild rivers, as the Vjosa is, makes the paddler's heart beat faster.
Continue reading

"Vjosa Grandiosa – was für ein Ritt!"