What a season that is now behind us - 2018 just rocked! The crowning finale in absolute amazing paddle weather was our season finale, which we held with more than 30 participants of our multi-day courses and expeditions at the Hunsrück-Basecamp Nahemühle in Monzingen in mid-October. "Celebrating" was on my tongue while I was writing - yes, that feels right too. We celebrated the end of an incredibly sunny, adventurous and action-packed season, celebrated our LWA community and simply spent another weekend together. What did we do there? That's what I'm telling you now.
Übrigens: Auch das LWA-Team hat die Chance genutzt, mal (fast) alle Crewmitglieder beisammen zu haben, und sich vorab schon mal getroffen. Sebastians Eindrücke vom Teamtreffen am Abend vorher gibt's hier.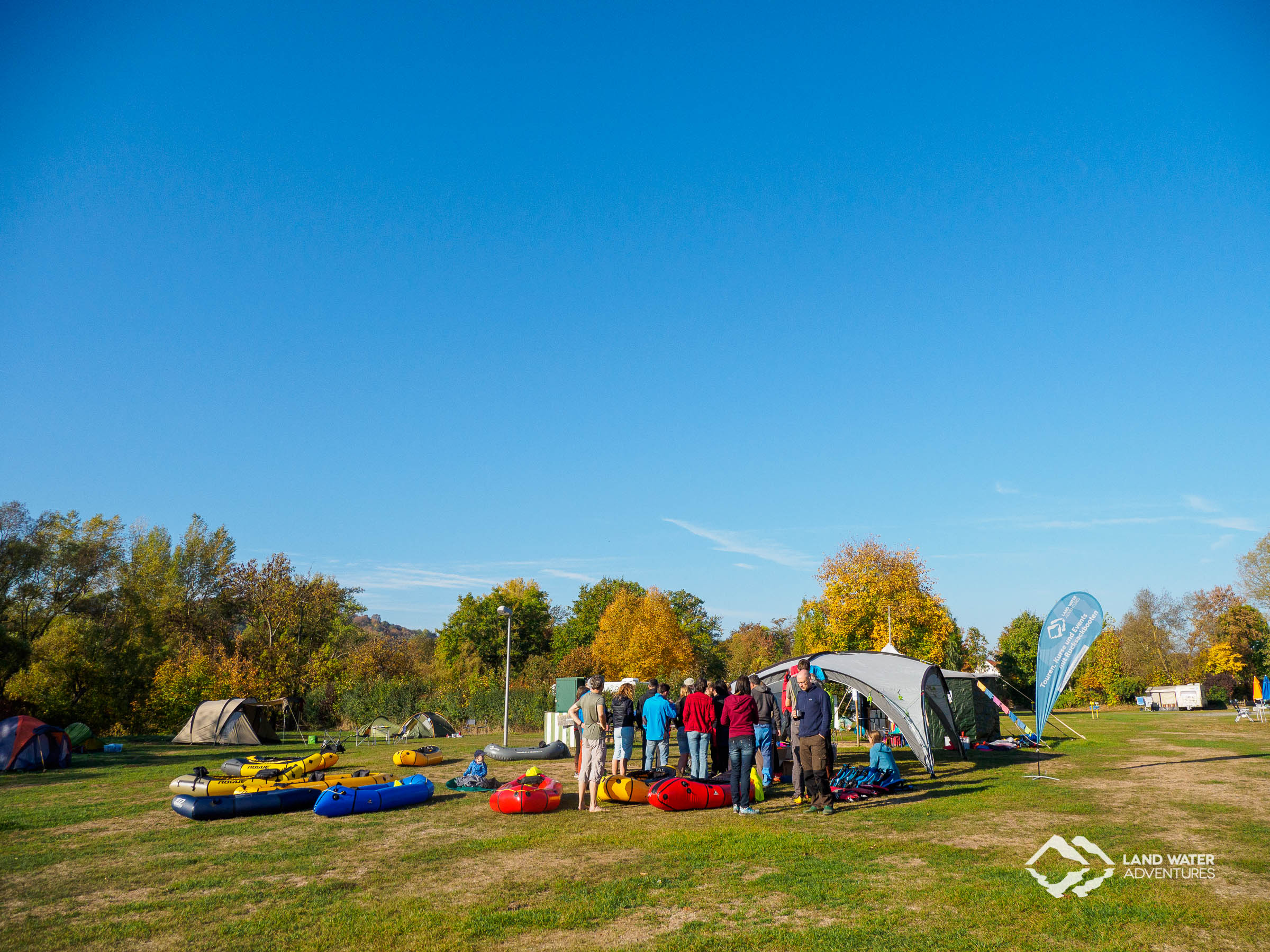 It starts on a Saturday in mid-October. Bright sunshine, almost 25 degrees Celsius. Yes, really, it feels like summer. The traditional chocolate buffet, where the LWA community meets around the LWA team, was placed in the shade of the yurt on "our" tent meadow near the Nahe.
Nahe-Run: More than 30 colourful boats
Program item 1, after the greeting, will again be a Nahe-run this year. Once more on the water is a must-do. Since days we of the team are looking forward to it, painting again and again pictures before our inner eyes of all the colourful boats, which will then cavort on the Nahe. The picture that we get when we board the train at Monzingen station with more than 30 people, and especially the sight at the destination station in Norheim, when these 30 packed people step onto the small platform again, is simply beautiful for us. Joy and gratitude come up, about so many good-humoured participants who threw themselves into adventure with us this year, and now partly came so close from so far away to paddle together again. Wow!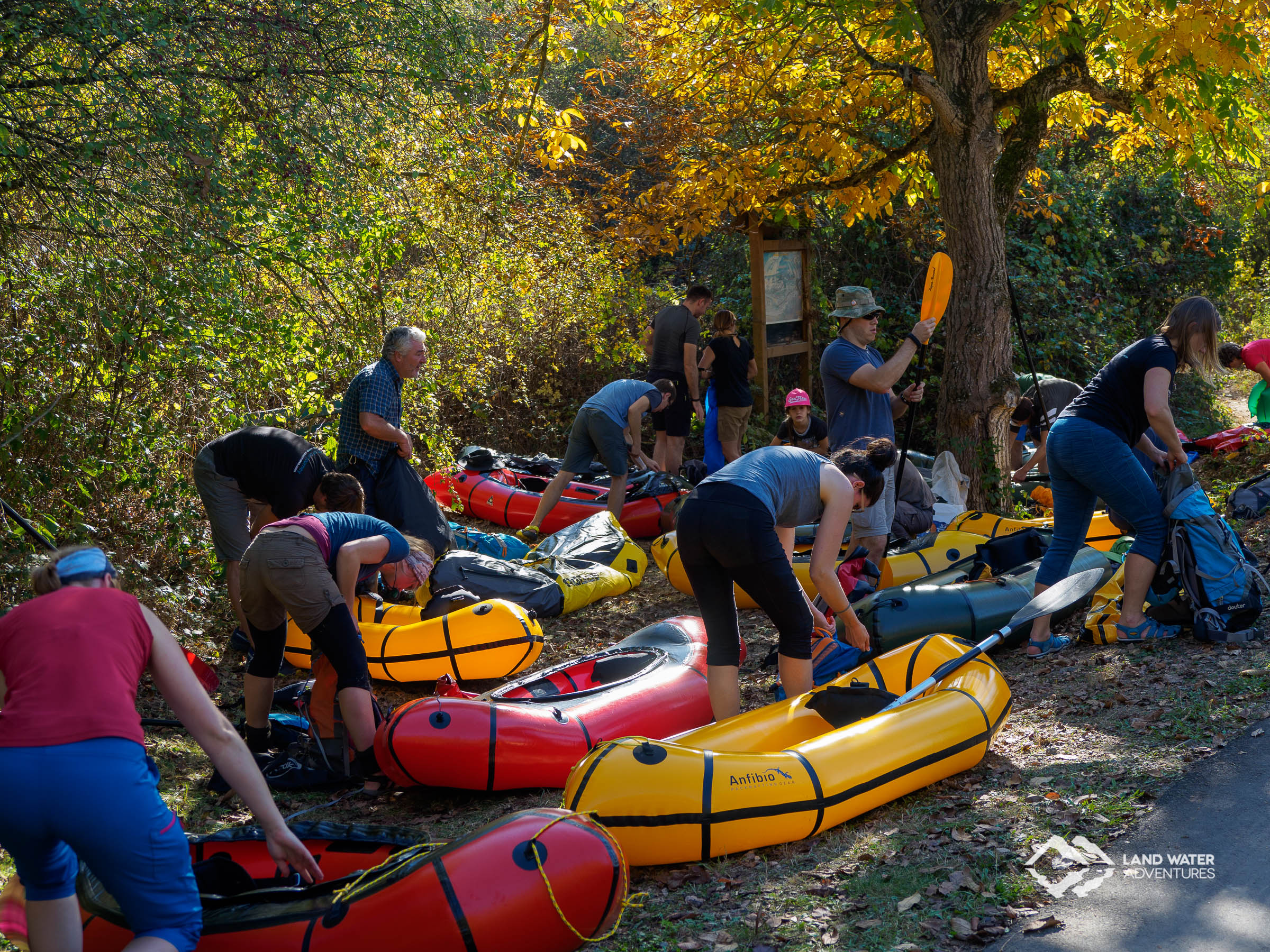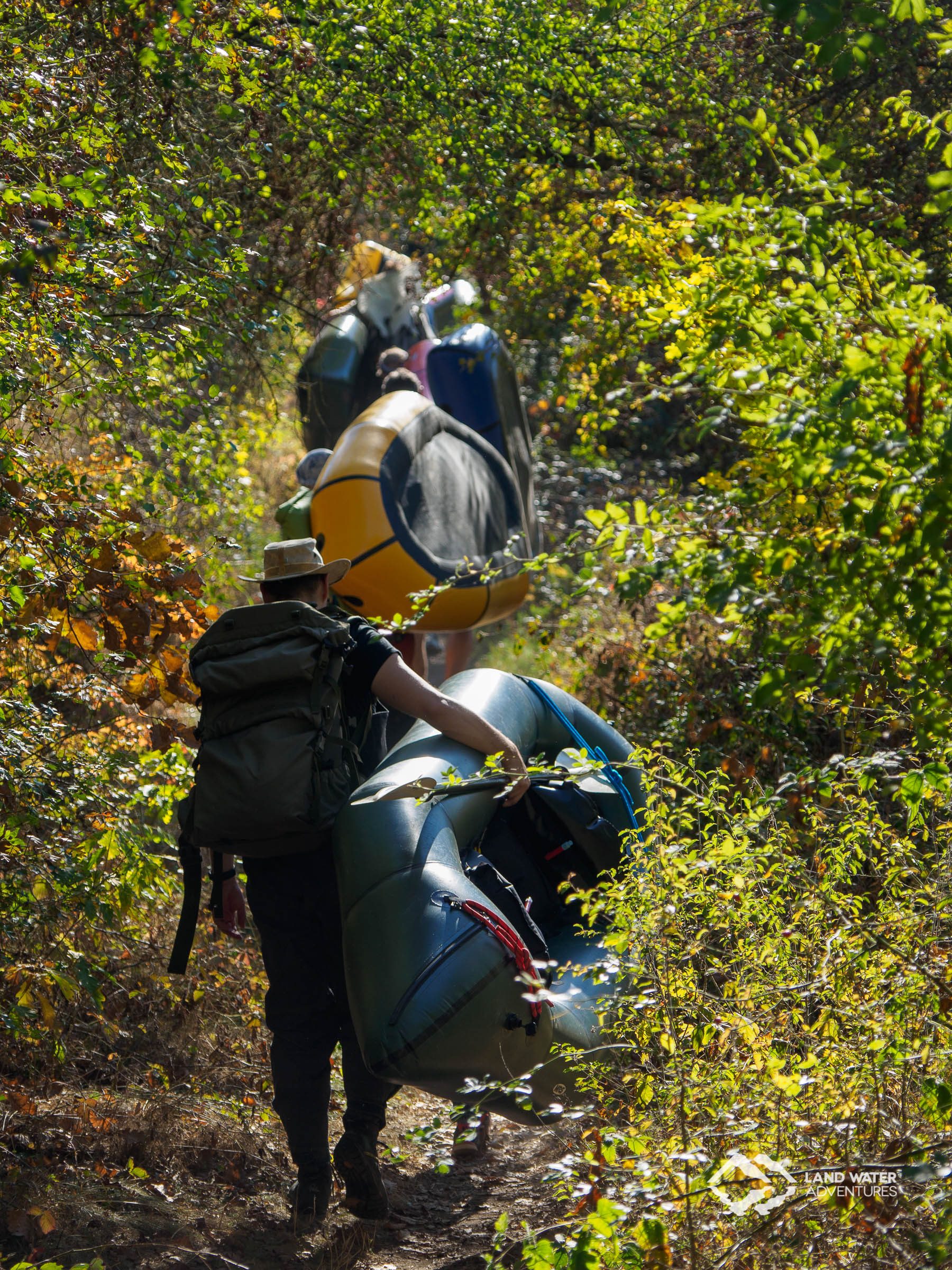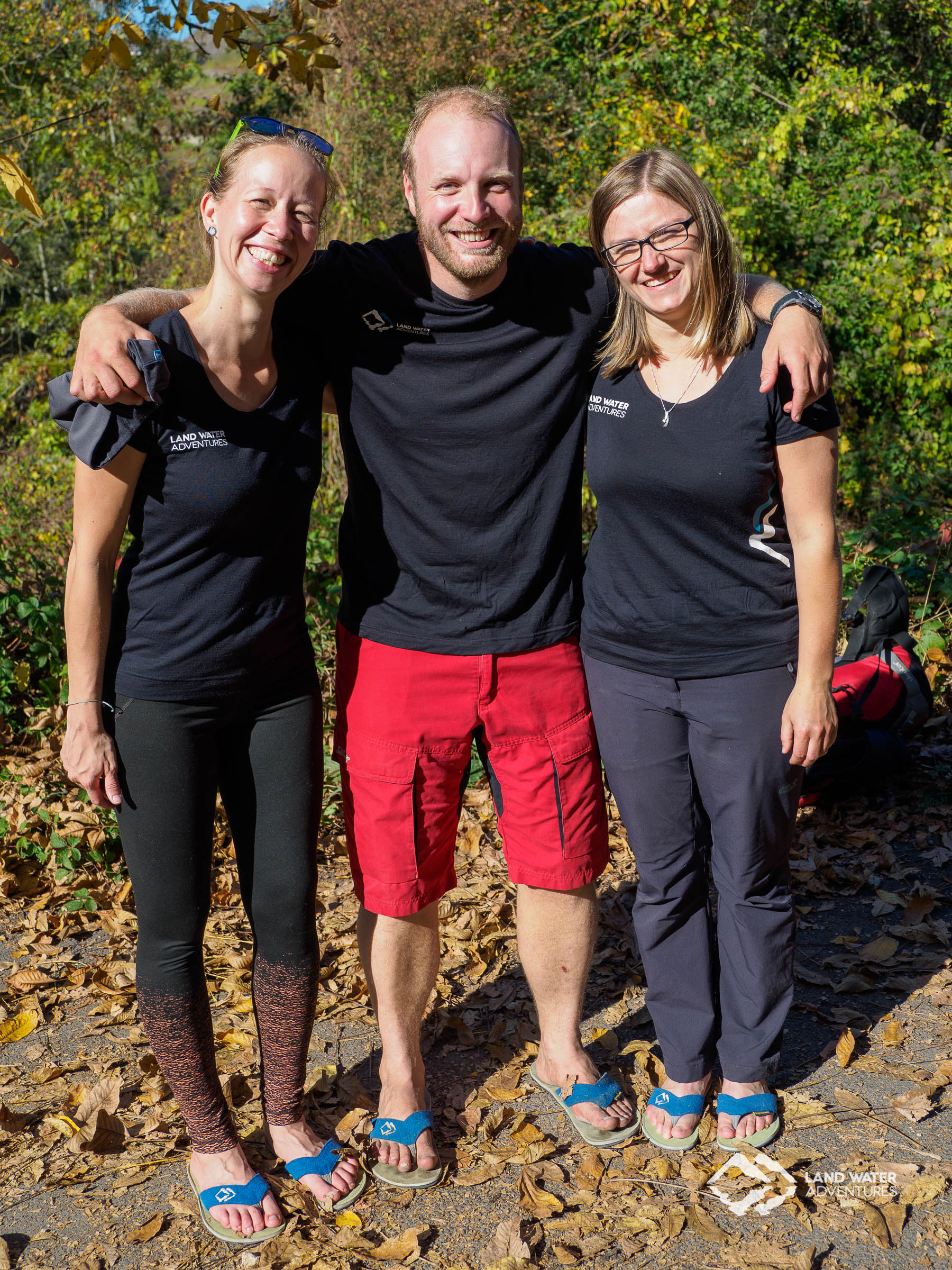 On foot we go to our entry point of the Nahe day courses. With sunshine (mostly) and rain, in the May-green and during midsummer, with small and large groups we have been here the whole season long. And now one last time for this season. But first we capture the Nahe bridge - what a picture - before we plunge into the remaining waves of the Nahe after this dry summer. And indeed, the pictures from our heads become reality and a huge, colourful ball of Packrafts of all kinds paddles comfortably down the Nahe. There is laughter, experiences are exchanged, own stories of the season are told. We are wonderfully slow on this autumnal ride.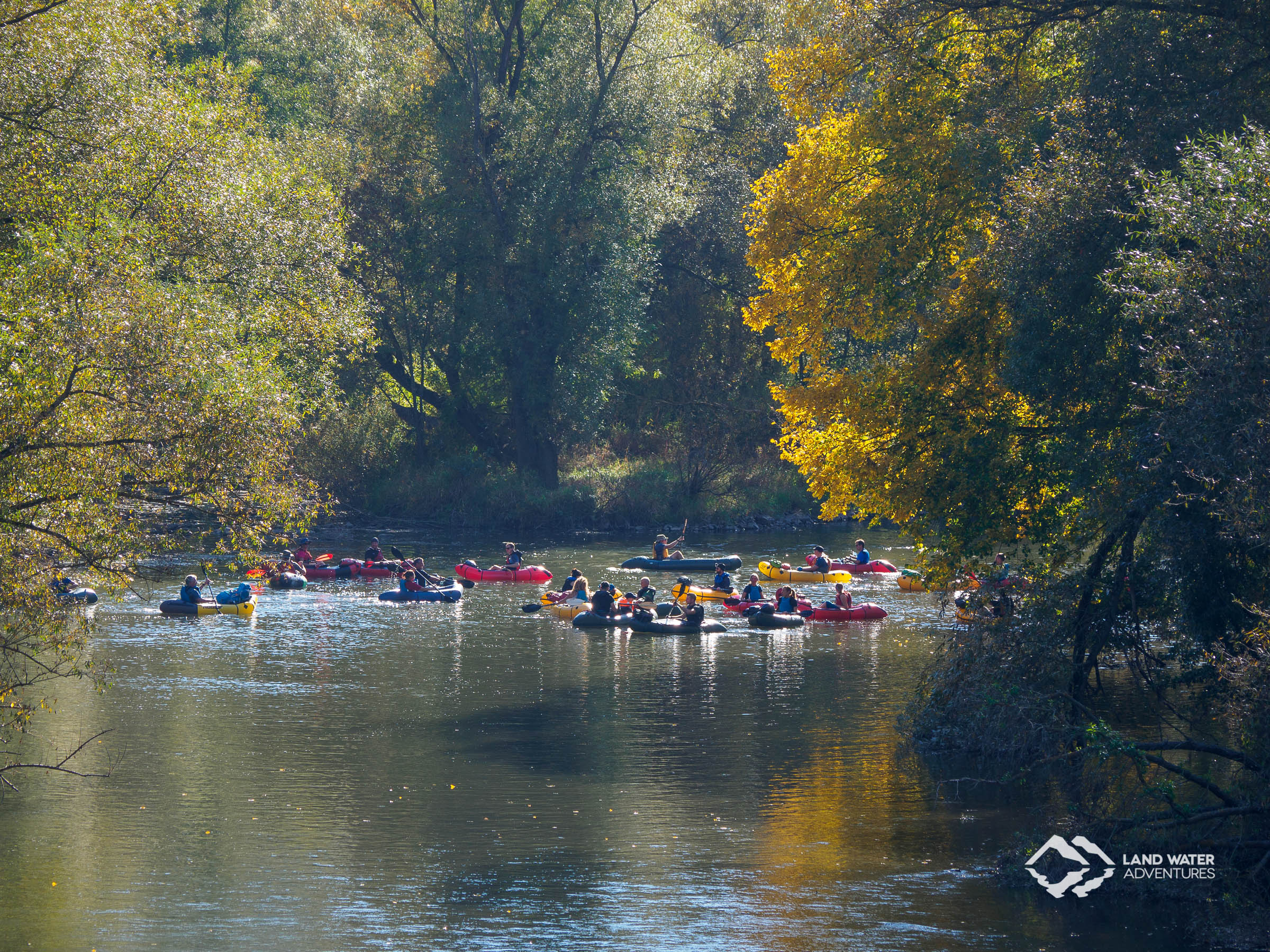 Afterwards we board the train back to Monzingen in the tranquil health resort Bad Münster am Stein, full of anticipation for the traditional Chili sin Carne, which Susanne prepared during our absence.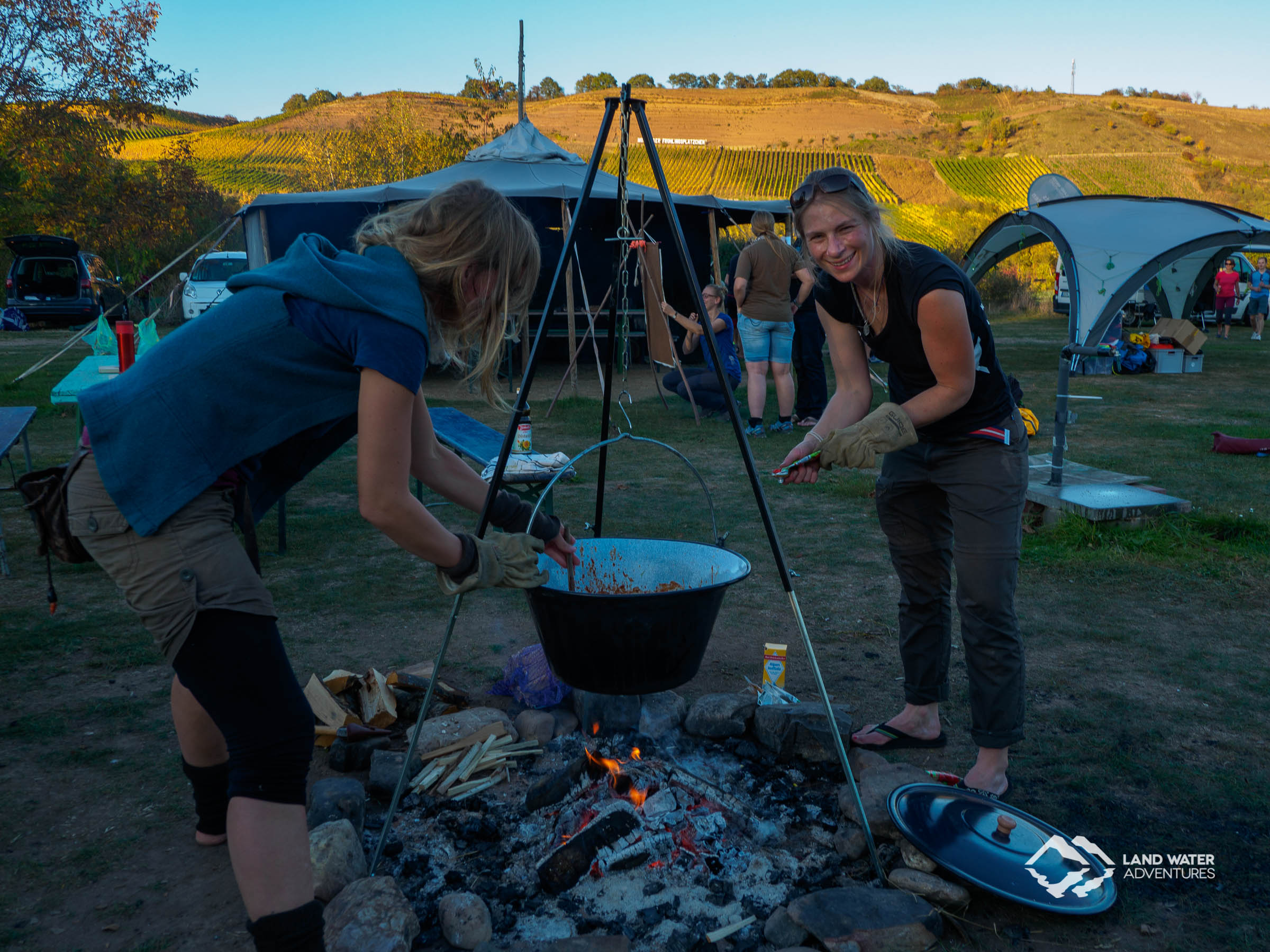 Campfire stories in the evening
It's getting crowded around the campfire, we find. Still the circle around the fire and the pot full of chili is big, later in the evening we will sit in two rows around it, exchange stories and listen to the lectures of Sebastian and Susanne.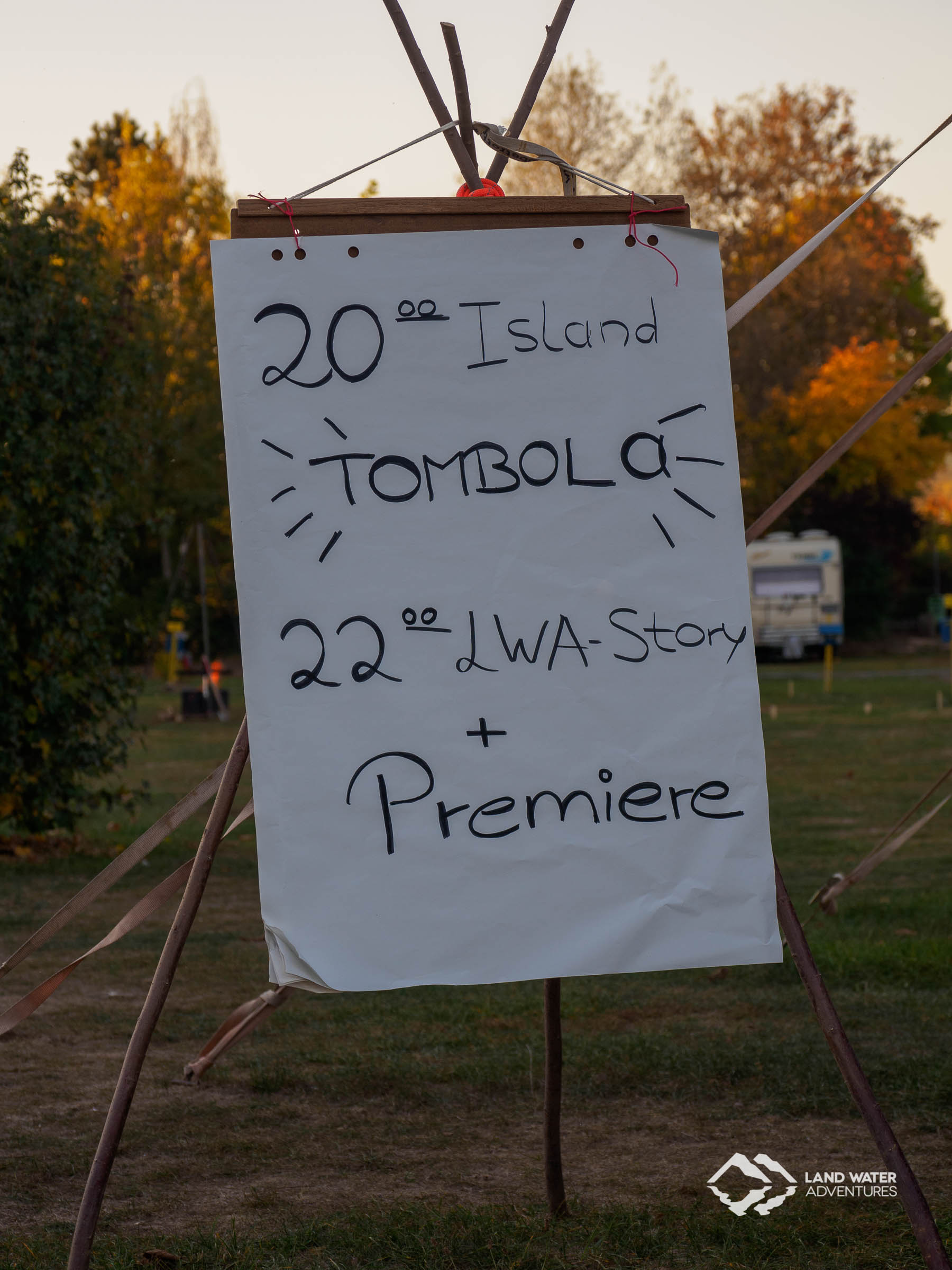 Sebastian takes us on a virtual journey to Iceland, into the vastness and barrenness of the wild Highlands, through which the this year's expedition group has fought itself.
There has also been a premiere this evening: For the first time we will show the brand new Soca video with recordings from this year's courses, great impressions of the landscape and nature and lots of whitewater action.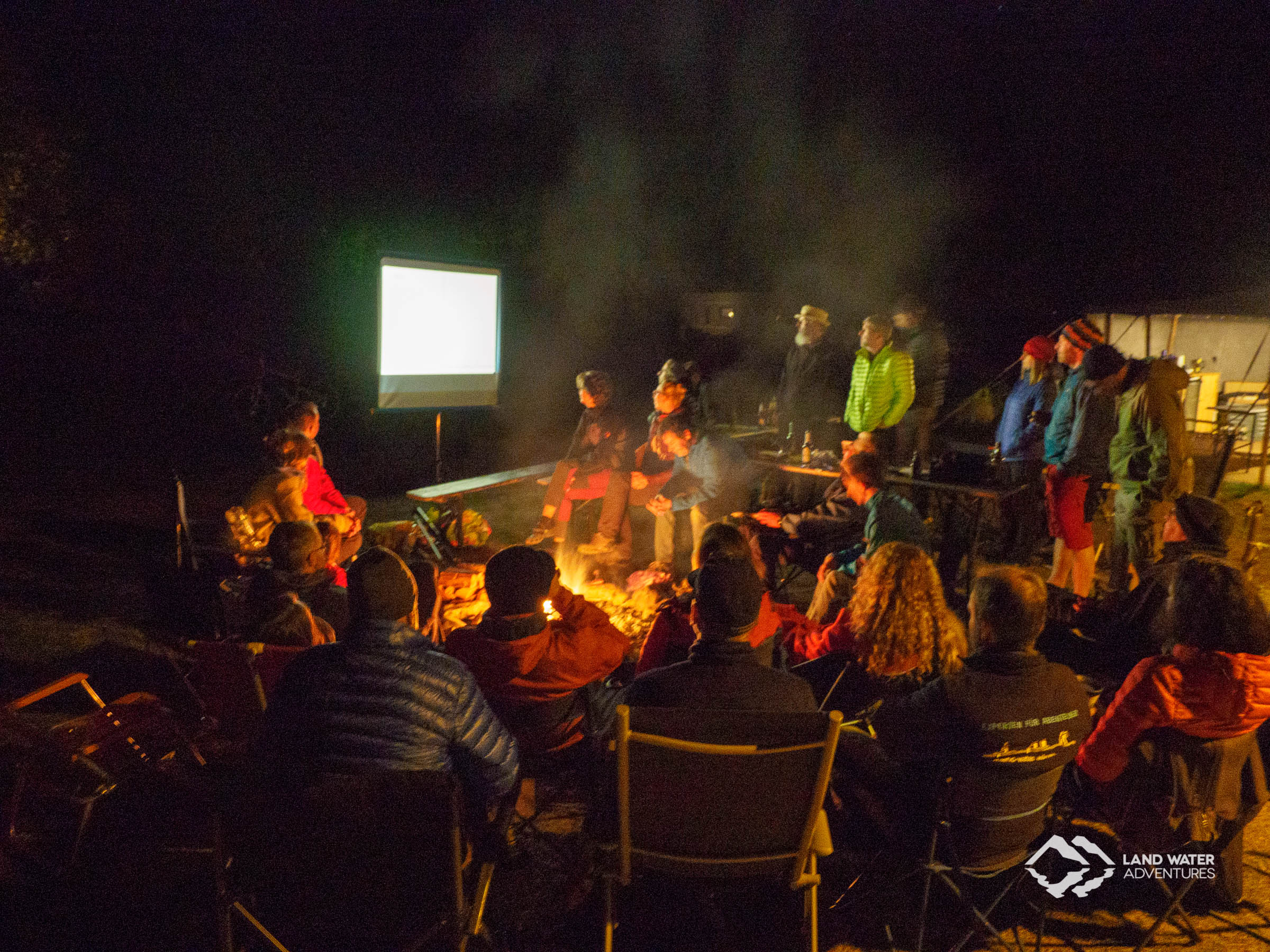 We don't want to withhold this feeling from you and invite you: Close your eyes, imagine you are on the camp meadow, around you outdoor enthusiastic packrafter, starry sky, you were just on the brook and now sit warmly packed with chili sin carne in your stomach and a drink in your hand around the crackling campfire and this movie starts:
Together for the Blue Heart of Europe
Ausführlich berichtet Susanne, zuständig für Umwelt- und Naturschutz bei LWA, über die Kampagne "Save the Blue Heart of Europe" zum Erhalt der Flüsse auf dem Balkan. Die kompletten Einnahmen unserer Tombola, die wir an diesem Abend veranstalten, geht zugunsten der Kampagne. Insgesamt sind hier 270,- € zusammen gekommen. Land Water Adventures rundet den Betrag auf gesamt 400,- € auf, die gesamte Spende geht an die EuroNatur Stiftung.
Of course there was also something to win for our participants in the tombola. Our partners Anfibio Packrafting Store, Doghammer and SWAK provided some nice prizes, thank you very much.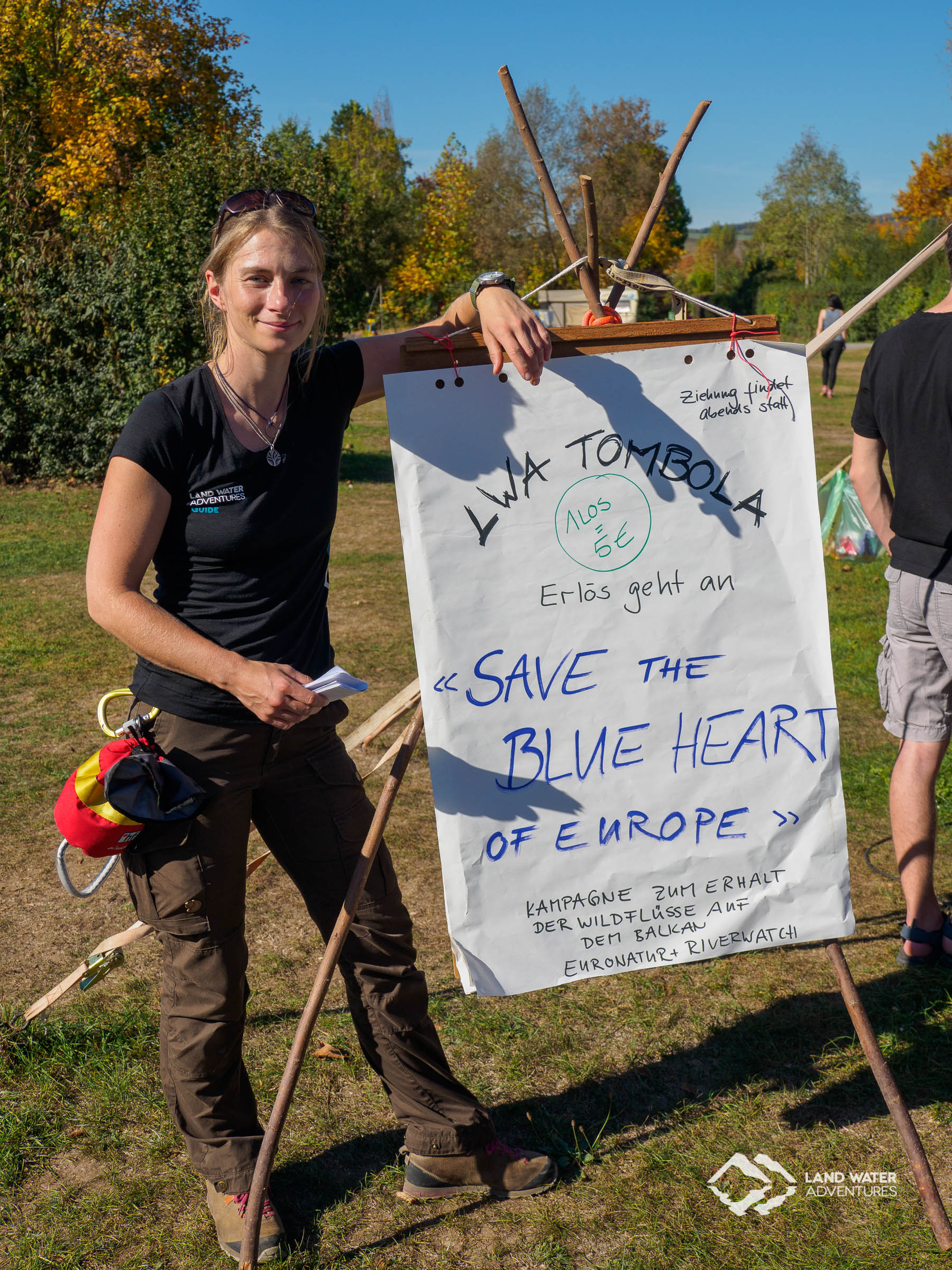 Paddling on the meadow and tooth brushing together on sunday morning
Sunday morning starts with coffee and breakfast on the tent meadow, little by little our little group gets together again in the first warming rays of the sun. After breakfast we brush our teeth - of course. This morning we all do it together. Directly on the meadow. Participant Anna brought us a test package of Miswak woods, which, she tells us, have been used for thousands of years for dental care and were unknown to me until now.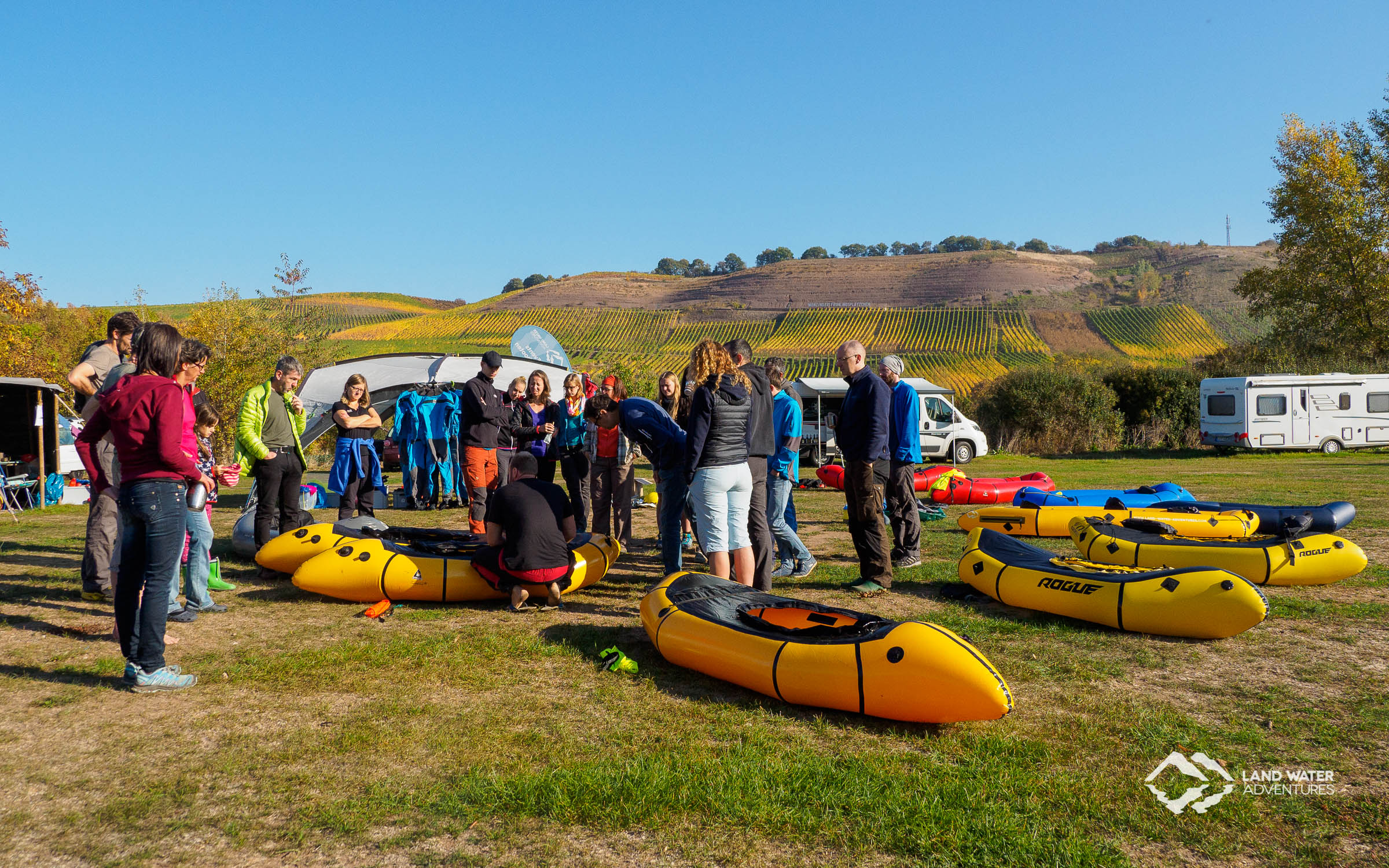 Afterwards, the meadow is suddenly full of boats and accessories again - the second-hand market for the 2018 season has started. Dry paddling while trying out and testing different equipment, talking shop, questions and a lot of equipment exchange determine the next two hours and some of our LWA boats find a new home. We wish them a lot of fun with their new owners.
Hardly any of the many farewells can do without a hearty embrace and at some point, in the autumn afternoon sun, only a small group with LWA team shirts sits under the yurt and reviews what sunny, intensive days they were.
Then we go, turn around and look forward to arriving here in pretty much exactly 6 months in the first moves of spring 2019 and again in a new adventure to start a new season.
It remains for us to say thank you. To all our participants, our partners, all the people who make up the LWA community for your adventurous spirit, your energy and the joy of travelling. Thank you for being a part of this and see you soon in the waves!
About the author:
Here writes Cora, responsible for social media at LWA. In love with nature, outdoor-enthusiastic and the camera mostly ready, she likes to be outside and writes about it on her blog Green Shaped Heart. More about Cora is also available here.