Ist Kaiserschmarrn Vorspeise oder Hauptgericht?
Wir sind wieder trocken, die Helme abgelegt, die Boote liegen neben unseren Zelten, draußen wird es dunkel. An einem Freitagabend im Lechtal sitzt eine gut gelaunte Runde von PackrafterInnen zusammen und lässt den ersten Tag des Advanced Wildwasser Packrafting Kurses in Tirol , pondering about Kaiserschmarrn. We will find a solution to this - and just order twice.
But first: Saftey training
But as announced, we are here not only for the Kaiserschmarrn. The participants already have been thorugh an intense day with packraft-specific safety training and some shifts in perspective. The world looks totally different depending on whether you are standing at the bank of the river and throwing a rescue line or the water is up to your neck whilst you are alternatively trying to pull yourself out of the water at that rope or you are brought to the bank of the river hanging behind someone else's packraft. On half a kilometer of this river with changing currents we are simulating more and more complex scenarios of rescue and safety until the evening.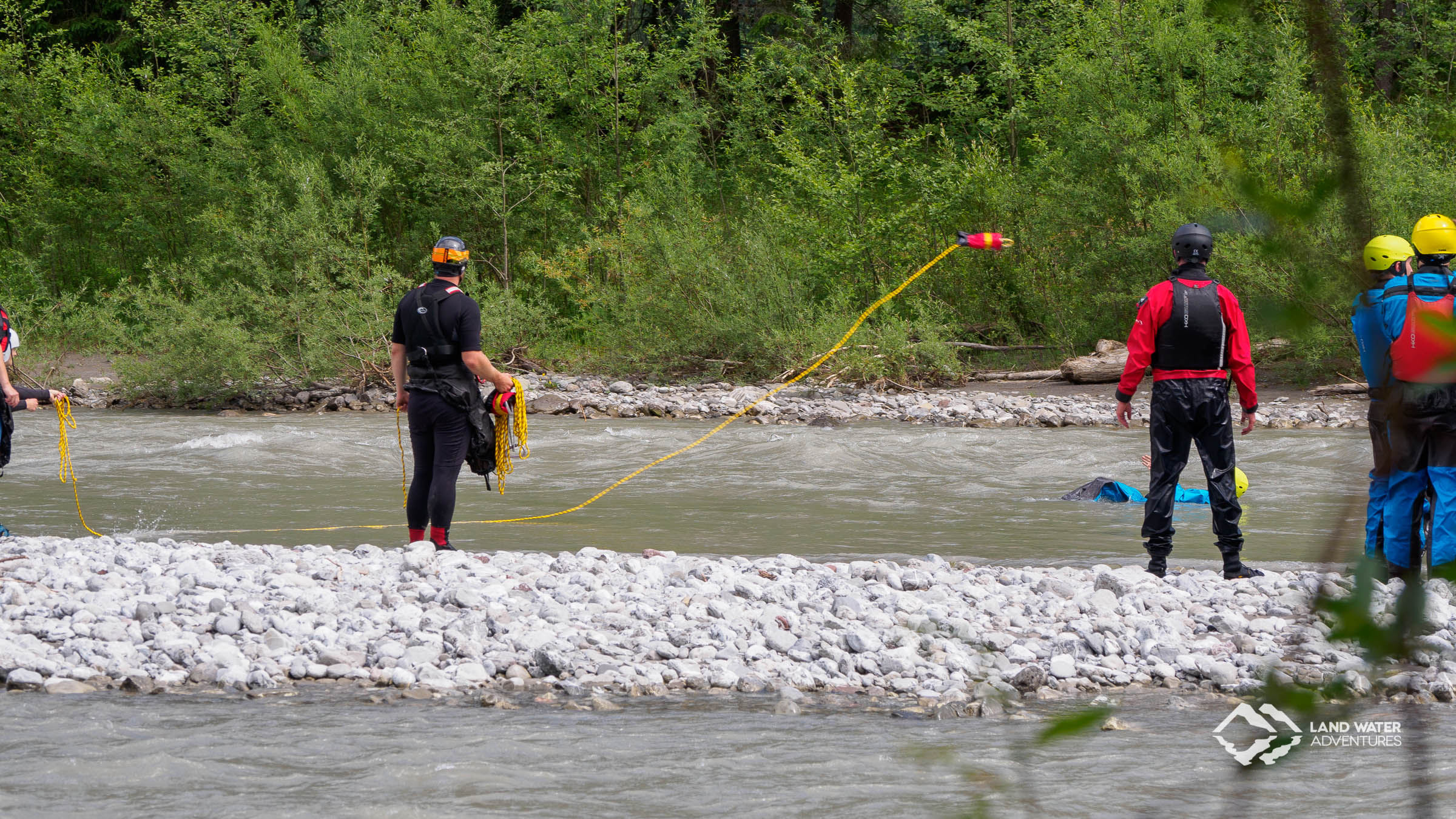 But why, actually, safety training?
Cut. We have been in on the river for a few hours already and just are getting back into our boats. Seen from the bridge the line to take in order to get safely through that big drop without capsizing is fastly explained. The same applies to the shaft shoulder into which you should not be moving transversally. A thrilling spot at River Lech. As a participant capsizes right in these waves it's the moment to practice our safety training. This will happen all over again and it's a pleasure for us as the guide team to watch experienced packrafters starting to take care of eachother as a group, making use of saftey techniques and therefore making our interference unnecessary until a certain point.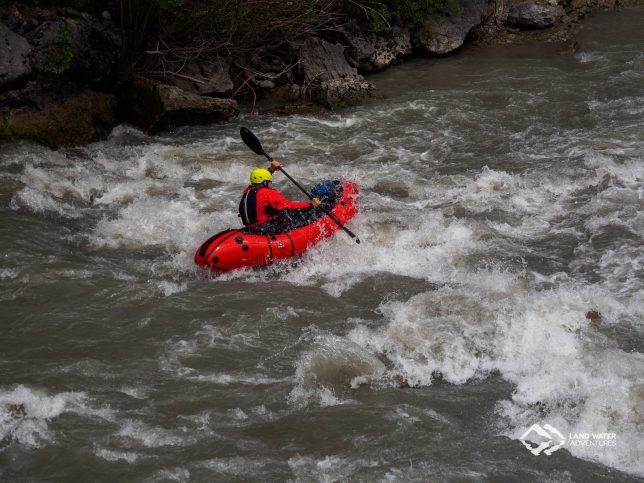 But of course we have not only been in the water at that day but most of the time on it. Besides those typical wavetrains of River Lech and that beautiful alpine panorama we focused on eddie-training, mastering flows and paddling safely in higher volume waters.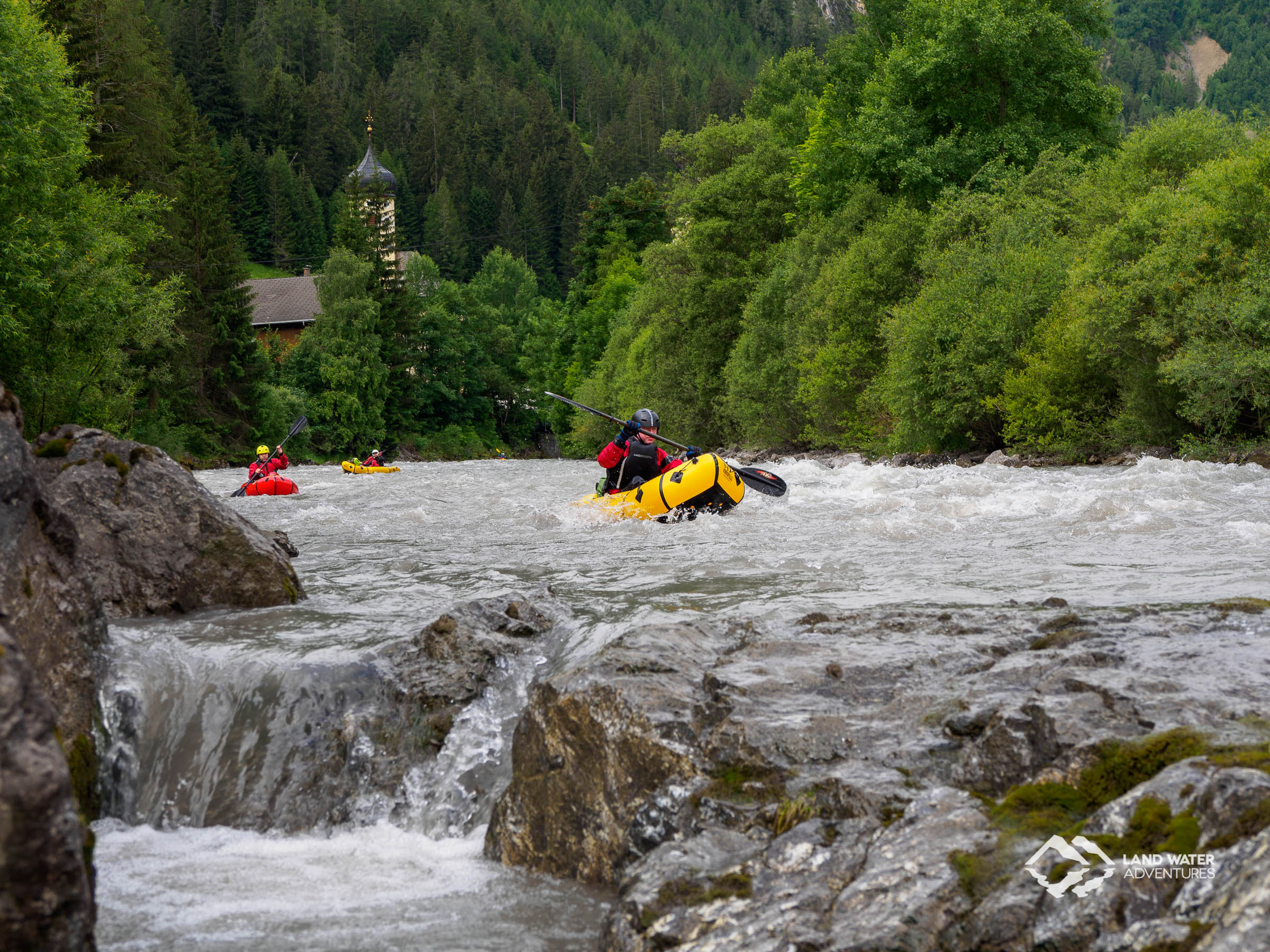 This is important because often the weekend in Tyrol is the whitewater training for participants joining our expeditions. For example Marie and Joachim would, only a few weeks later, paddle a big glacial river with the skills they learned here from the Icelandic highlands into the south  .
Our Tyrol-anecdote: The whitewater unicorn

And, as often happens in our courses, tours and expeditions, fun was not falling short here. Did you for example ever catch a glimpse of a whitewater unicorn? No? We did neither until that day. But Moni brought her Peggy with her to Tyrol, a proud unicornlady from the Lower Rhine. She was allowed to have a taste of whitewater at the training spot from the first day, too, and could explore the currents as well as the panoramic view. Safely roped to Sebastian's boat of course.

And remember: When on moving water on a unicorn, also wear full safety equipment. ;-)
Sunshine at Isar Valley
On day three, to conclude our course, we are moving away from loads of water into a demanding jewel in Karwendel Valley. Everything that was learned within the last days has to be used now. Isar gorge rewards us with turquoise waters and a lot of sunshine.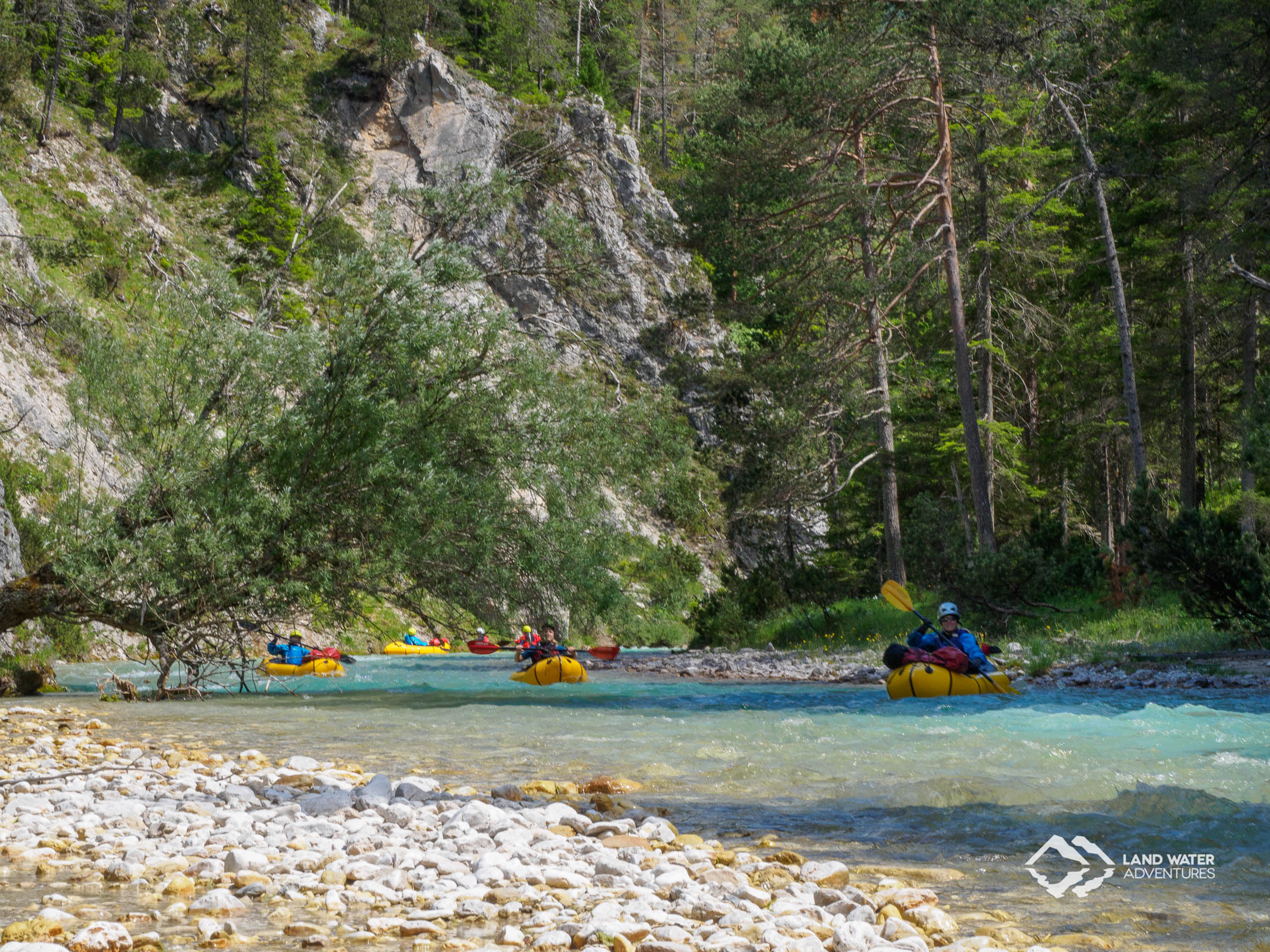 These were good days, also for us as a guide team, and not only for the sake of Konrad's big glas of Nutella.
Thanks to a fun, relaxed and motivated gang of long known but also new members of the LWA community that we accompanied through three days of advanced packingrafting. It's nice to see friends meet again this weekend and new outdoor communities emerge. See you at Kaiserschmarrn 2019.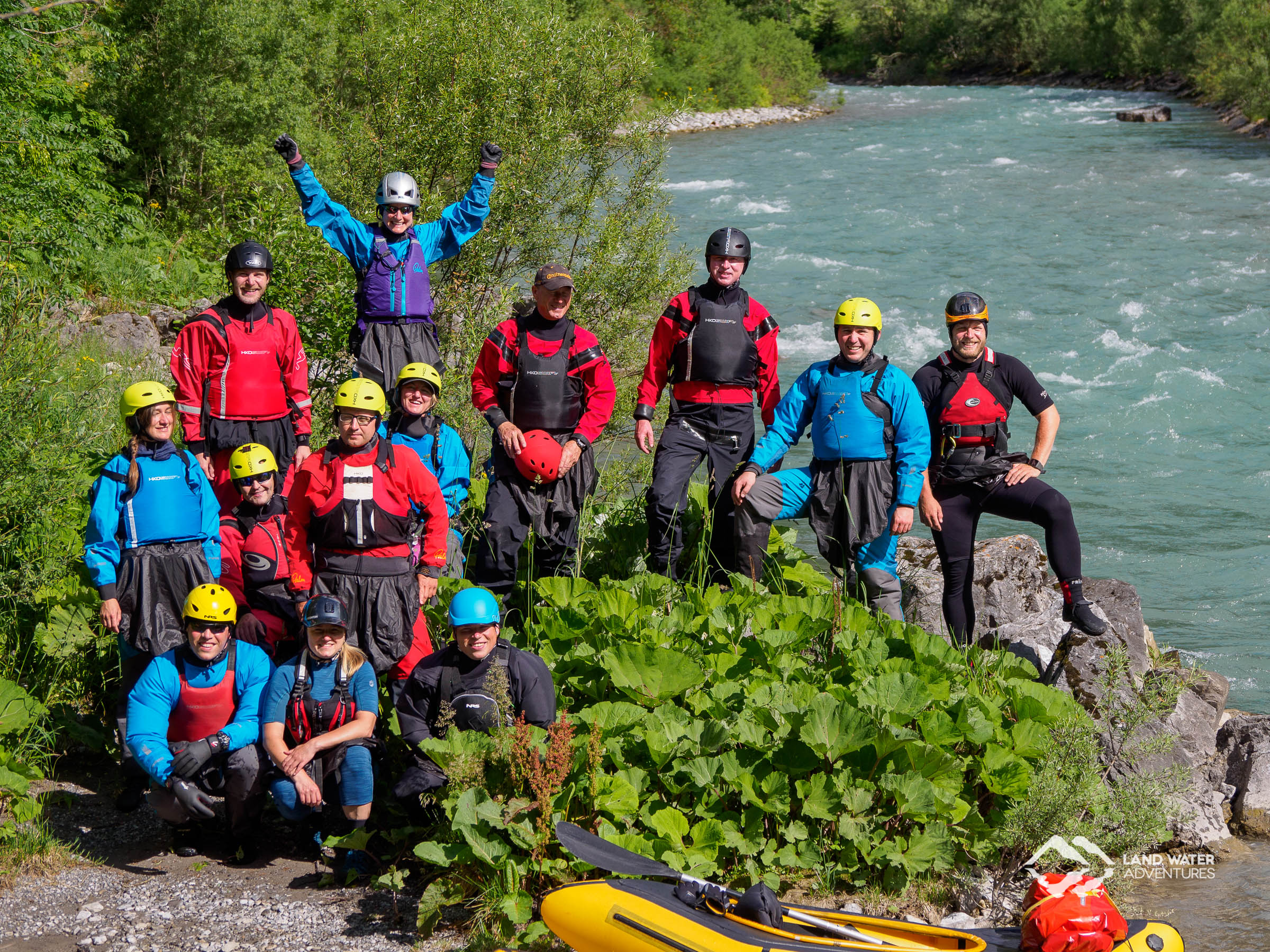 About the author:
Here's Sebastian, founder and initiator for a lot at LWA, especially for the emphasis on choclate. He is rarely on the way without it. Besides this he functions better in cool conditions and loves water best when it's rushing. There is more about Sebastian here.