Intense, wild, wonderful.
A fit gang of whitewater enthusiasts is drawn to Albania. Why? We are attracted by beautiful wild rivers.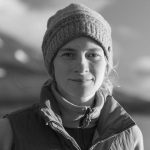 A post by Susanne Blech
At Land Water Adventures Susanne is a guide for whitewater and expedition style, tour developer for unusual locations, contact person for nature conservation, expert for environment and wilderness, likeable, walking nature encyclopedia and does not get out of the tent without coffee.
More information about Susanne here.
Is a river that winds through old cultivated land still wilderness? Yes, it is. The Vjosa exudes the feeling of originality with every one of her bends. It rushes, the waves bounce, the current pulls. You don't need to be far from civilization in Albania to immerse yourself in nature.
As a paddler, you are inevitably also a bit of a pilgrim, driven by a longing for untamed nature. On the surface, what beckons the visitor is the sporty fun of paddling in whitewater. But looking deeper, the character of the river is what really keeps us here. And especially the character of such majestic wild rivers, as the Vjosa is, makes the paddler's heart beat faster.
At the beginning of June, we spent several days on the Vjosa and the neighboring Osum and came back with fabulously enriching impressions in our packs. For us, both rivers are natural jewels that are simply priceless for us humans. This holds true for the local people, but also for the people who no longer know the free-flowing wild rivers on their own doorstep and travel long distances to experience them.
We have made a video about our motives for the tour and mixed in a few impressions of the wonderful landscape. Have fun watching!
Where else can you paddle a varied river for several days without interruption, which always offers challenging but doable whitewater passages? To move for days in an untamed wild river, without having to portage weirs, is a feeling of satisfaction and inner peace. You immerse yourself in nature and gain distance from everyday life. Weirs change or take away the character of the river. Hydropower has always been an important part of the energy supply and has cut or reduced the big rivers in Central Europe into energy suppliers. Do we really want to sacrifice all the major rivers to our ever-growing hunger for energy? Lost enjoyment of the original is still the least of the problems of such an intervention, but it is not unimportant from an economic point of view. Sustainable tourism in such an enchanting place is an alternative that can certainly contribute to the preservation of the landscape. This is exactly our motivation.
We are already looking forward to coming back.
Das nächste Mal dann vom 3. – 10. Juni 2023, alle Informationen zur nächsten Durchführung gibt es hier: Expeditionstour Albanien
Since such a great tour doesn't just come out of nowhere, I would like to take this opportunity to express my special thanks to a few people.

Land Water Adventures has been donating 1% of the proceeds from the wild river courses to EuroNatur. for several years now. The outdoor company wants to contribute to the preservation of wild river landscapes. The "Save the Blue Heart of Europe" campaign has motivated us to become active on site, to enable packrafting enthusiasts to experience the Vjosa and to work together with the local people. I would like to thank first and foremost Sebastian Schmidt, who with Land Water Adventures is an entrepreneurial "enabler" and has thus paved the way for this venture. I would also like to thank Niels van der Woude, without whose early support this tour idea would not have been realized, and the wonderful Johannes Kormann, der die Tour mit geleitet und einen großen Anteil am Entstehen des Videomaterials hat. Ich bedanke mich auch bei den TeilnehmerInnen der Erstdurchführung 2022 für ihr Vertrauen, ihr Durchhaltevermögen und ihre Begeisterung! Die Gemeinschaft hat mir große Freude gemacht! Last but not least gilt mein Dank natürlich und insbesondere auch den freundlichen Menschen vor Ort, allen voran Dona und Robert Tabaku. Mit sehr viel Naturverbundenheit betreiben sie am Ufer der Vjosa den kleinen Albturist on the banks of the Vjosa and offer rafting tours. We wish them all the best and look forward to seeing them again.
Der Weg zu einer Expeditionsteilnahme hat Lagerfeuer und Wellen
Für alle, die ihr im Film und auf den Bildern seht, führte der Weg in die Expeditionen über Multiday Kurse im Hunsrück oder dem Bayerischen Wald und Wildwasser Kurse, z.B. in den Alpen oder an der Soča.
Es braucht eine Menge Skills, Expeditionslocations wie Albanien, Iceland oder in 2023 auch Kanada, genießen und meistern zu können. Dafür haben wir unser Kursprogramm.
Ihr habt Lust darauf, Teil einer LWA Expedition zu werden? Dann meldet euch bei uns und wir schauen uns euren persönlichen Weg dorthin an.