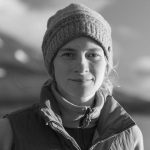 A post by Susanne Blech
Susanne is Land Water Adventures' contact person for nature conservation, expert for the environment and wilderness, guide for whitewater and expedition style, friendly, changing encyclopedia of nature and does not leave her tent without coffee.
The protection and preservation of wild landscapes is her passion and the project Albania within Land Water Adventures is a very personal concern for her. In August 2019 Susanne was on the spot, at the wild heart of Albania and writes down her impressions here.
More information about Susanne here.
He bends down deeply to push the hand plough into the sun-dried, torn earth. A lean cow stands stoically next to him in the leather harness. A shepherd rides past leisurely on a donkey. It is noon and the high August sun burns relentlessly down on the farmer with his draught animal in the cloudless sky. Above the scenery lies a leaden heat and a great calm, enveloped in the never-ending, scraping sound of the cicadas. In the background, behind high piled yellow haystacks, a bright turquoise band winds its way through the deeply incised valley. Some impressions on the upper reaches of the Vjosa suddenly leave behind the feeling that time has stood still here in southeastern Albania, not far from the Greek border. Continue reading "Das wilde Herz Albaniens"