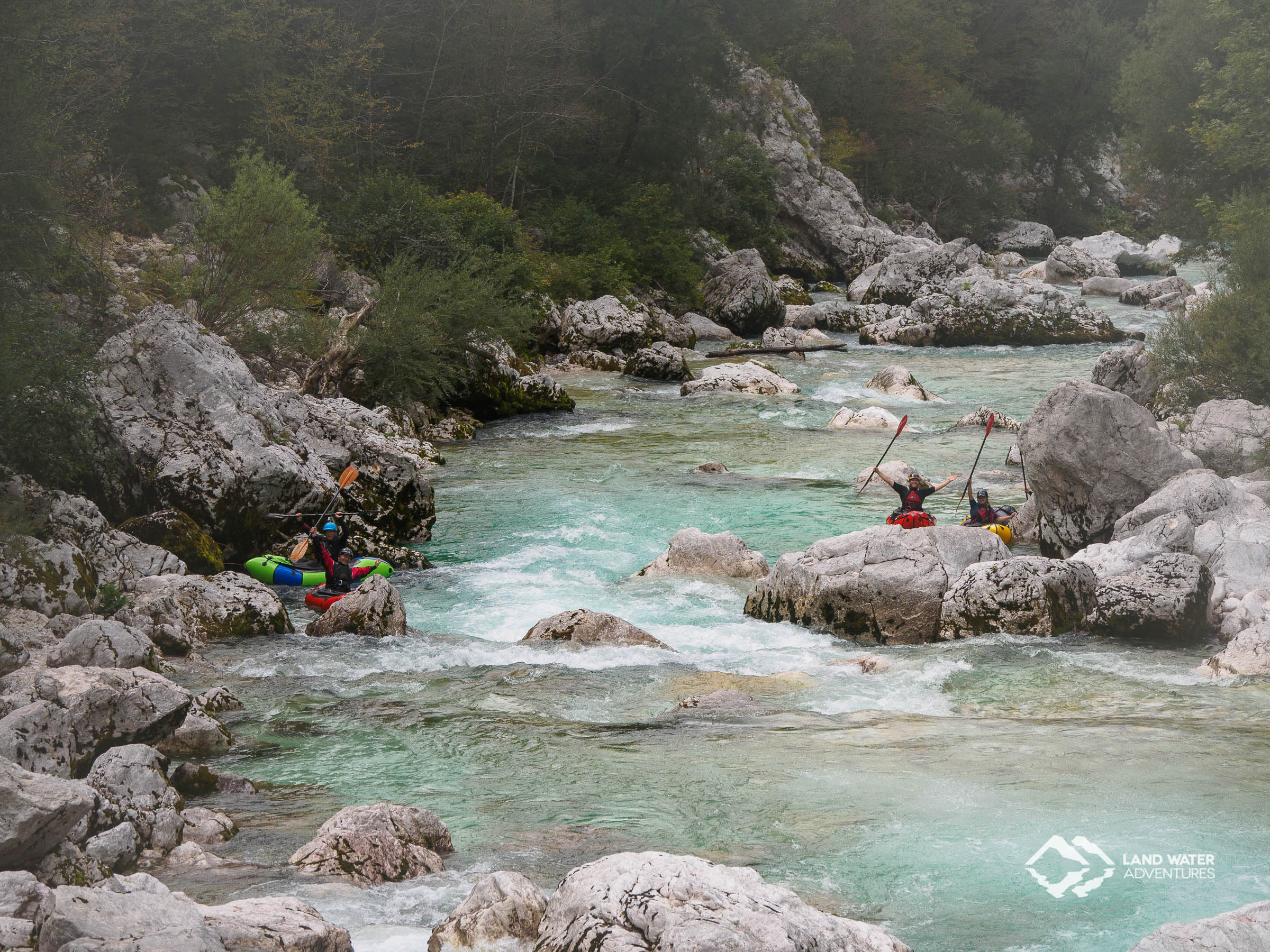 Singing in the rain: Soča Advanced 2018
27.11.2018
Granted: Of course, we would like to see increased water levels for an advanced course. This is not possible in the Soča valley without rain. So we inevitably want that, too. And at the same time we know that caution is the order of the day with such wishes.


Here and now it is Saturday, Andi and I are sitting in a sauna in the Austrian Alps, the Soča valley is over the next mountain range and outside it is raining cats and dogs. Actually beautiful. But again? We both still have the loud noise from last year in our ears, when heavy rain shortly before the start of the course caused all the brooks in the valley to swell to unrideable levels. The first Advanced course start, long filled with ideas, then became one of the most unusual course days to date.
"We both still have in our ears the loud noise from last year, when heavy rain shortly before the start of the course caused all the streams in the valley to swell to unrideable levels."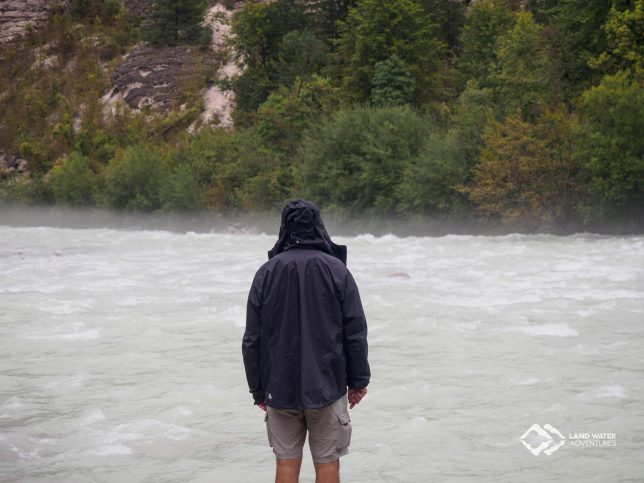 With a high water scouting session, cozy dinner with jungle feeling at Camp Lazar and Ukulele jamming with Eric, former rock star who in 2016 show up for the first time laughing in our camp for a Whitewater Packrafting Training.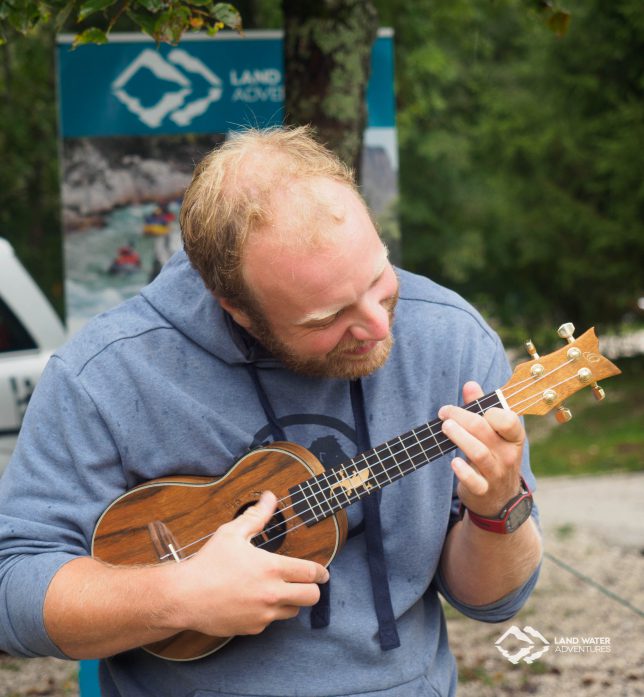 That was all very nice, but our participants usually come to paddle. Of course we also did that and not too too little of it. It cleared up in the valley, we looked in awe at the first snow-covered peaks and next day and the following days we went into the man-high waves and enjoyed that the stream was full of water, but as far as other paddlers were concerned relatively empty.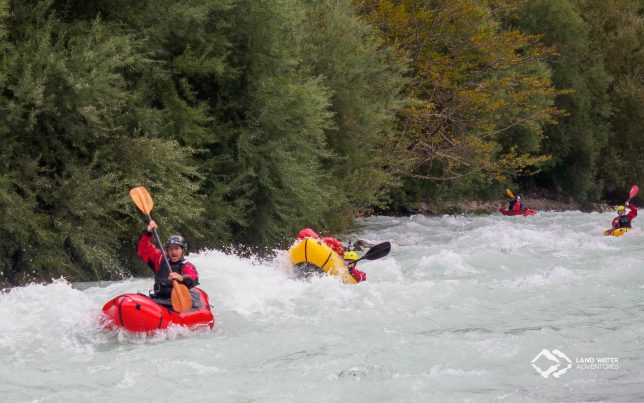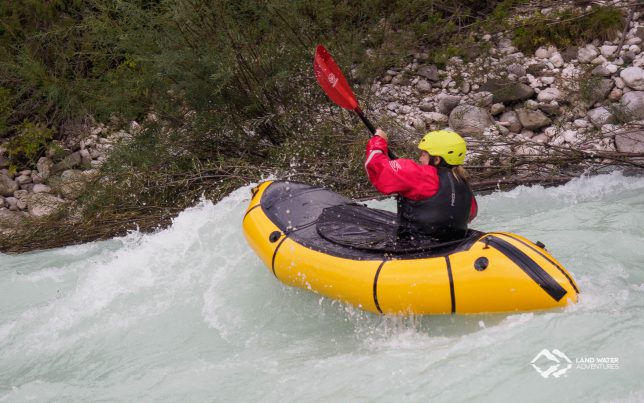 One year later
Here and now and we're still sitting in the sauna and it's raining: Still. But this year the rain seems more friendly. And here it is warm. That can be endured. In the open courses we led almost 40 participants through the gorges of Soča and Koritnica and now they will arrive soon, the wild progress packrafters. When our first participant Erik (no ukulele, but globetrotter) knocks on the camper the next day, the clouds are already gone, the sun is shining and rushing middle water invites us.
"Bei ihrer vorsichtigen Frage, ob sie die mal spielen dürfte, hat keiner von uns geahnt, was an musikalischer Klasse auch in diesem Kurs wieder auf uns wartet."
Less than 24 hours later we're already inside and Marleen drives off a "ok, wow, that's really a different start here" than Andi once again winkingly lures everyone into a rushing little sweep on the Koritnica. Advanced entry to our taste!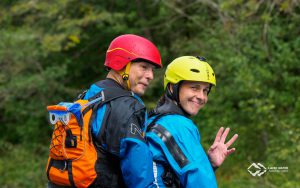 It's already dark by now, the Koritnica has spat us out again, we're showered and Marleen must have seen my guitar passing by in the brightly lit camper.
With her cautious question, if perhaps she may play the instrument, none of us suspected what musical class awaits us again in this course. After Eric last year again, we'd like to please book this for each training.
Last year Marleen kept that to herself when she was with Steffen, her husband with whom she runs the Kalari-Zentrum, at an open course with us.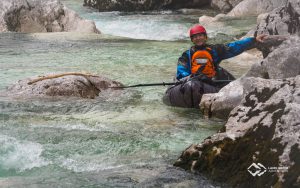 Since then Steffen this spring at his first Multiday training Hunsrück-Tour rode for the first time our Alpackalypse demo raft (by Susanne lovingly christened "Schnegel" (Wikipedia link to the Schnegel animal), it didn't seem to let him go. He had wished it for the course as a rental raft and even before we had completed the ascent to the Koritnica gorge, he entered into his first long-term packing force relationship and made the snow gel his own.
Steffen then converted the LWA Pavilion into a mobile workshop and built and modified his new raft with great pleasure. And I was glad that I took most of the LWA workshop with me to the Soča valley.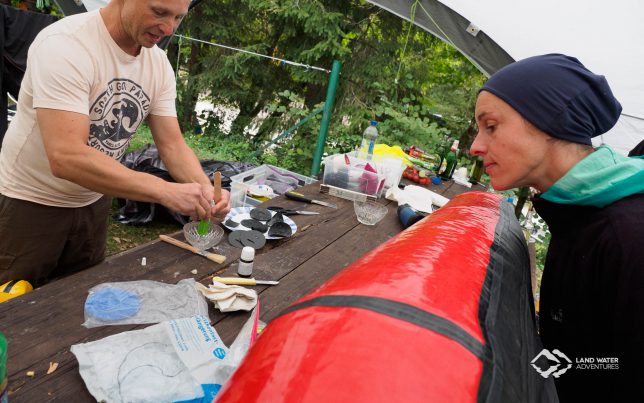 There were plenty of opportunities to try out the modifications on the following days.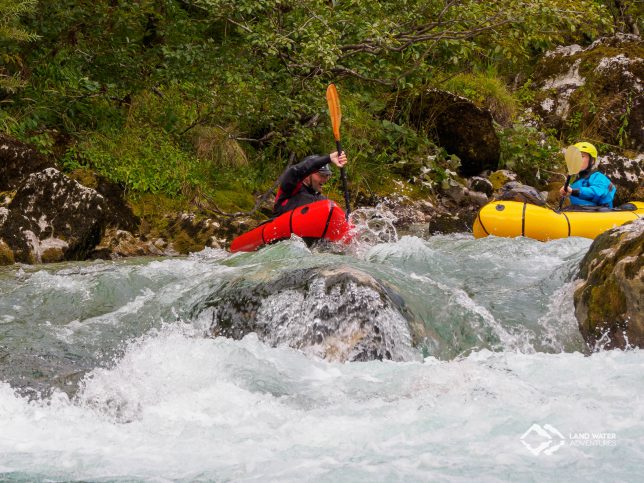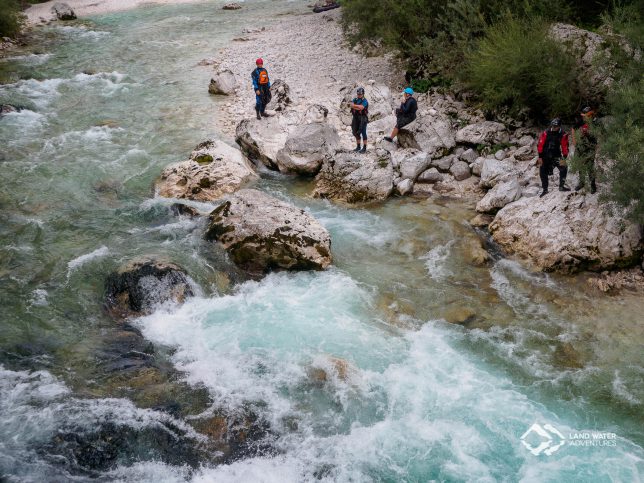 On the upper Soča and a Bunkerschwall section with plenty of steam and long scouting in advance, of course cemetery route and on the last day of the course the hard to top highlight: abseiling route with passage under the Napoleon Bridge at perfect level, drivable but challenging. Marleen had to abandon this day unfortunately with a heavy heart, but without her from the shore there would have been neither these great photos, nor the laughing happy reception at the exit.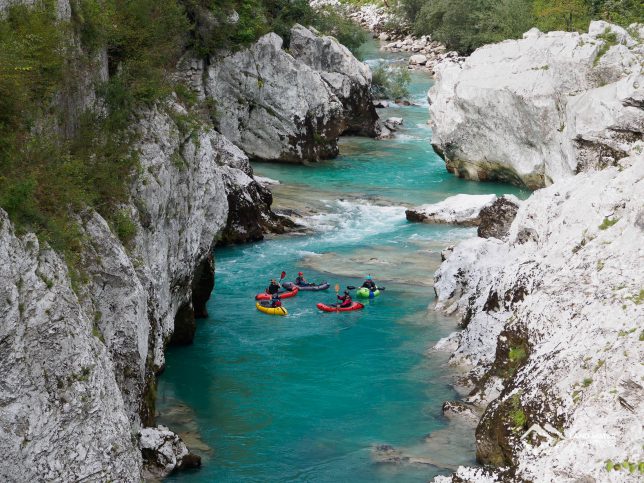 Already they were over, the 5 days of Advanced White Water Packrafting. Despite darkness and only dim light in the quaint Camp Lazar, the glowing eyes were to be seen and the euphoria that carried this walk through an intensive week could be felt.
That's how Andi and I had imagined an advanced training: Rain before the course started, but not too much, a small group full of action seekers, cosy evenings at the campfire, high-class musical background and here and there immersion in the Slovenian cuisine. And of course intensive days in the white water and on foot in the gorges of the valleys.
"In the quaint and cozy Camp Lazar, with tasty food, the shining eyes could be seen and the euphoria that this gang carried through an intense week could be grasped."
We cannot always guarantee this combination. But guaranteed and as always we are looking forward to next year, when we look out of the sauna at the weather and ask ourselves how it will be, the next and then again for a whole year last week with a few, pleasantly crazy whitewater paddlers in our favourite valley between the turquoise rivers.
This was also for Andi and me a great finale for 4 intensive weeks in the Soča valley. Thanks to action-hungry, energetic and very sympathetic participants!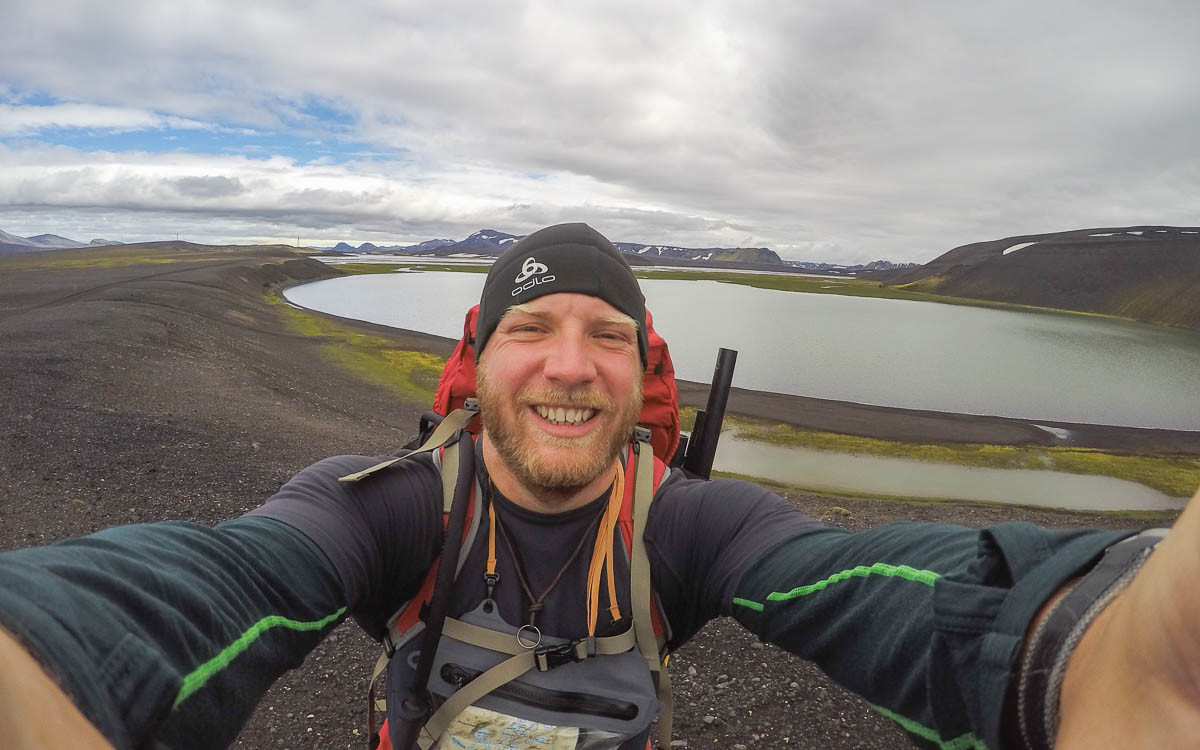 About the author:
Sebastian, founder and owner of Land Water Adventures, and basically content as long as there is water on the stream, enough chocolate and nice people around him. There is also more about Sebastian here.
PS: If you want to see the action in moving pictures, take a look here. Participant Erik has packed our time together into his own video, thanks for that.
You May Also Like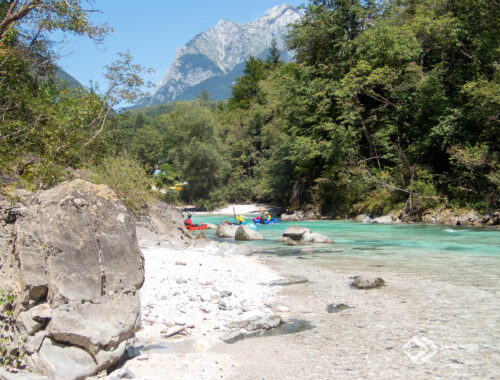 13.09.2023

24.09.2019