Der Weg hinein in die Sylanmountains zieht sich. Die frisch mit Lebensmitteln gefüllten Rucksäcke lasten schwer auf jedem Schritt. Die kleinen Trampelpfade, die uns in diesem Jahr ins norwegisch-schwedische Grenzgebiet führen, sind neu. Für uns. Als sich im unmittelbaren Vorfeld der Unternehmung abzeichnet, dass Norwegen seine Grenzen pandemiebedingt nicht rechtzeitig wieder für den Tourismus öffnen würde, entscheiden wir uns für einen alternativen Zustieg über Schweden.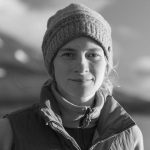 About the author:
Susanne, our contact person for nature conservation, expert for environment and wilderness, guide for whitewater courses and expeditions and sympathetic, walking nature encyclopedia. Doesn't leave the tent without coffee.
More information about Susanne here.
Und so kommt es, dass sich drei Tage vor Tourstart ein Gemeinschafts-Bus der Nichtflieger auf den Weg nach Schweden aufmacht, uns ein schwedisches Rentier am Startpunkt willkommen heißt und dass für den ersten langen Tourtag alle die Zähne zusammenbeißen. Das Ziel ist ein abgelegener, fantastisch langer Wildfluss, den wir in diesem Jahr bereits Anfang Juli ansteuern. Beim Erreichen der ersten Mindestetappenlänge ist nach einem stetigen Anstieg erschöpft Feierabend. Es ist ein für die Region ungewöhnlich warmer Sommertag. Über dem nördlichen Skandinavien schwebt eine anhaltende Hitzewelle.
Continue reading

"Sylan auf Schwedisch"